India History Quiz (Part 4) - General Knowledge of Indian History
Part 4 of India History Quiz - General Knowledge Questions (121 to 160) on Indian History. Take the Quiz and improve your overall General knowledge on Indian History.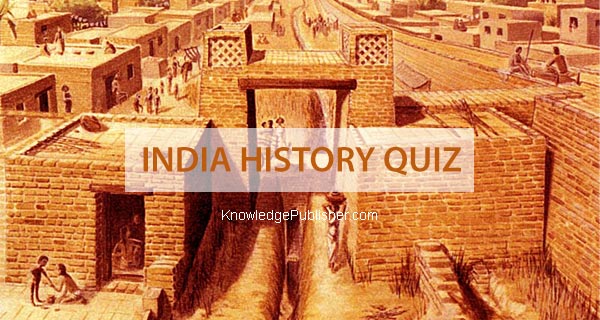 121. By profession, Mahatma Gandhi was a lawyer. In which countries did he practice law?
Answer: India and South Africa. He went to South Africa in May 1893 and returned to India in January 1915. He practiced law in South Africa for Several Years, giving it up to devote himself to the fight for the rights of Indians there. In India, he practiced both in Rajkot and Mumbai (then Bombay)
122. In which year was Mahatma Gandhi arrested for the first time in India?
Answer: 1922
123. Who was the first Indian to be elected a member by the British Parliament?
Answer: Dadabhai Naoroji
124. Who was known as the Gandhi of Bihar?
Answer: Dr Rajendra Prasad
125. Who was the first Hindu king shown playing the veena on ancient coins?
Answer: Samudra Gupta
126. When did Indira Gandhi become the Prime Minister of India?
Answer: 24 January 1966
127. Who was the first European invader on Indian soil?
Answer: Alexander the Great
128. Which party did Motilal Nehru and Chittaranjan Das found in 1923?
Answer: Swaraj Party
129. Who was the first American President to visit India?
Answer: Jimmy Carter
130. Which Sikh Guru was executed by Aurangzeb?
Answer: Guru Tegh Bahadur
131. In which year did Shivaji assume the title of Chhatrapati?
Answer: 1672
132. Which mausoleum built in 1659, is known to echo the faintest whisper eleven times?
Answer: Gol Gumbaz
133. Who was the first Indian to hold a commercial pilot's licence?
Answer: J.R.D. Tata
134. Which Company owned the tea chests that were thrown off the ships in what has since come to be known as the Boston Tea Party, in 1773?
Answer: The British East India Company
135. Besides the Taj Mahal, which is the other UNESCO World Heritage monument in Agra?
Answer: Agra Fort
136. Which Mughal emperor built the Ram Bagh?
Answer: Babar
137. Which high official of Shah Jahan's court is buried in 'Chinnika Rauza' in Agra?
Answer: Afzal Khan
138. With which element is the Dandi march associated?
Answer: Salt
139. Who is regarded as the Father of Indian medicine?
Answer: Charaka
140. Who was the first non-Congress Prime Minister of India?
Answer: Morarji Desai
141. Which Indian ruler shifted his capital from Delhi to Daulatabad?
Answer: Mohammad bin Tughlaq
142. Who was the first deputy Prime Minister of Independent India?
Answer: Sardar Vallabh Bhai Patel
143. When was Pondicherry taken over by India?
Answer: 1st November 1954, following an agreement with the French government
144. Which Indian ruler was the first of establish standard silver coinage by issuing a coin called the 'Tanka'?
Answer: Sher Shah Suri
145. Who founded the city of Buchephala in India on the river Jhelum in present-day Pakistan?
Answer: Alexander the Great
146. Where in Delhi would you find this persain inscription, "If there is a paradise on earth, it is this, it is this"?
Answer: Red Fort
147. Which Indian ruler built the Purana Qila, situated on the banks of the river Yamuna?
Answer: Sher Shah Suri
148. Who gave Vallabhbhai Patel the title of 'Sardar'?
Answer: Mahatma Gandhi
149. Which Mughal Emperor of India was declared leader of the Indian troops during the revolt of 1857?
Answer: Bahadur Shah Zafar
150. In which State of India are the ruins of the Indus Valley site of Lothal located?
Answer: Gujarat
151. How many governors-general did India have after Independence?
Answer: Two
152. What was the capital of the Mughal Empire during the reign of Jahangir?
Answer: Agra
153. In May 1658, where did Aurangzeb defeat his elder brother Dara Shikoh's troops?
Answer: Samugarh
154. For which queen did Aurangzeb build the 'Biwi ka Maqbara' at Aurangabad?
Answer: Rabia-ud -Daurani
155. How many times was Jawaharlal Nehru imprisoned during the freedom Movement?
Answer: Nine times between December 1921 and June 1945
156. When did Mahatma Gandhi adopt the loin-cloth as his regular form of dress?
Answer: September 1921
157. What important event in the history of British India took place on 1st January 1877?
Answer: Queen Victoria was proclaimed the Empress of India
158. At which political function was India's national song 'Vande Mataram' first sung?
Answer: The 1896 session of the Indian National Congress
159. 12th January is National Youth Day. Whose birthday is celebrated on this day?
Answer: Swami Vivekananda
160. To which dynasty can the seven pagodas of Mahabalipuram (Mamalapuram) be attributed?
Answer: The Pallava dynasty of 4th to 8th century A.D.