Football Quiz Questions with Answers - Football Quiz
Here is a collection of football (soccer) quiz questions to test your football knowledge. The football quiz will test your knowledge about football. Find out how much you know by taking this football quiz. These football quiz questions and answers are fun to try. Use this football quiz to test your football knowledge and see how many quiz questions you can answer.
Football Quiz Questions with Answers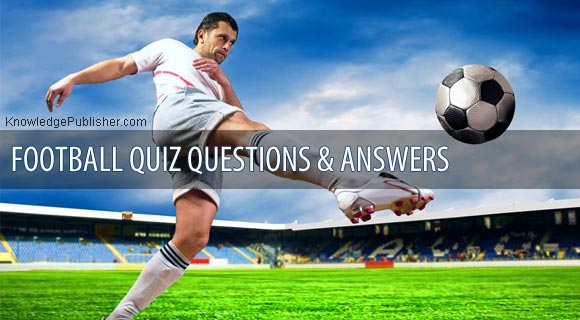 1. How many penalties are usually taken in a penalty shoot-out?
1
5
3
12
2. Which football club does David Beckham play for?
Manchester United
Liverpool
Real Madrid
Montevideo Wanderers
3. Who won the 1998 Football World Cup Final?
France
Brazil
Portugal
Wales
4. What is the main color of Brazil's national team shirt?
Red
Black
Pink
Yellow
5. How many minutes are usually played in a football match?
30
45
90
200
6. Where were the 2002 Football World Cup finals held?
Japan & Korea
Germany
Scotland
Colombia
7. Celtic and Rangers plays their football in which Scottish city?
Edinburgh
Glasgow
Aberdeen
Dundee
8. What color cards do the referees carry in a football match?
Red and Yellow
Black and White
Red and Green
Yellow and Orange
9. Real Madrid plays football in which European country?
Germany
Scotland
Spain
Italy
10. A spot-kick is taken from where?
The Centre Spot
The Penalty Spot
The Ink Spot
On The Spot
11. What is the usual length of time allowed for half-time interval in a football match?
10 minutes
15 minutes
1 hour
25 minutes
12. Which English football club has the nickname 'The Gunners'?
Chelsea
Arsenal
Aston Villa
Brighton and Hove Albion
13. Who won Series-A in Italy in the 1999-2000 season?
Arsenal
AC Milan
Lazio
Real Madrid
14. Which animal is also a derogatory term used to describe a slow and/or uncreative player?
Monkey
Pony
Donkey
Slug
15. Which of these is an informal term for retiring from playing?
Throw in the towel
Nip it in the bud
Hang up your boots
Go and grow daisies
16. The penalty area is usually how far away from the touch line?
18 yards
15 yards
22 yards
4 yards
17. Standard Club Liege plays football in which country?
France
Holland
Jersey
Belgium
18. What color shirts do Nigerian football players wear?
White
Green
Red
Blue
19. The J-League is the Professional Football League in which country?
Jamaica
Japan
Java
Jersey
20. FC Copenhagen plays football in which country?
Denmark
Sweden
Belgium
France
21. Who is the only player to have scored a hat-trick in a world cup final?
Pele
Gerd Muller
Geoff Hurst
David Beckham
22. AC Milan and Internazionale play at which ground?
San Siro
Stadio Delle Alpi
Stadio Olimpico
Ninian Park
23. Who won the 1998 World Cup Final?
Germany
France
England
Argentina
24. Flora Tallinn plays football in which country?
Latvia
Lithuania
Croatia
Estonia
25. Which of the following dead ball situations can you be offside from?
Corner kick
Free kick
Throw-In
Kick off
26. Deportivo Quito plays football in which country?
Bolivia
Chile
Ecuador
Spain
27. Where does British club Coventry City play their home games?
Haversham
Highfield Road
Highbury
The Hawthorns
28. Who was the first African to win the FIFA World Footballer of the year, in 1995?
Roger Villa
Finidi George
George Wash
Nelson Mandela
29. Which of the following is another term for a winger?
Flanker
Linebacker
Fly-Half
Flapper
30. What color shirts do Derby County wear?
White
Blue
Yellow
Black
31. Robbie Earle plays for which country?
England
Jamaica
France
Scotland
32. Deepdale is the ground for which British club?
Preston North End
Rochdale
Crewe Alexandra
Gillingham
33. Which team won Germany's Bundesliga for three consecutive seasons from 1974/75 to 1980/81?
Bayern Munich
Eintracht Frankfurt
Dusseldorf
Borussia Monchengladbach
34. What was the Brazilian player Artur Antunes Coimbra better known as?
Socrates
Garrincha
Zico
La Cicciolina
35. Who won the 1995 Women's World Cup?
Jamaica
China
U.S.A
Norway
36. In what color strip do North Korea play in?
Blue
White
Red
Yellow
37. Deportes Costa do Sol play football in which country?
Zambia
Mozambique
Ivory Coast
Spain
38. Which American actor played the goalkeeper in the 1981 film 'Escape to Victory'?
Mickey Rourke
Sylvester Stallone
Robert Redford
Donald Sutherland
39. Who won the European Cup in 1970?
PSV Eindhoven
Ajax
Feyenoord
Argentina
40. Who, at the age of 41, was the oldest goalkeeper to play in Football World Cup Finals?
Pat Jennings (Northern Ireland)
Dino Zoff (Italy)
Jan Tomaszewski (Poland)
Lothar Matthaus (Germany)
Football Quiz Answers
The answers to football quiz questions given above are mentioned below.
B
C
A
D
C
A
B
A
C
B
B
B
C
C
C
A
D
B
B
A
C
A
D
D
B
C
B
C
A
A
B
A
D
C
D
B
B
B
C
A