Michael Phelps broke 100-meter butterfly world record
Michael Phelps broke the 100m butterfly world record on Thursday, evidence that his post-Olympic transition is right on track.
Phelps, winner of eight gold medals at the Beijing Games last August, won in 50.22 sec, slicing 18-hundredths of a second off the previous record of 50.40 set by compatriot Ian Crocker at the 2005 World Championships in Montreal.
"It was big," Michael Phelps said of the achievement. "This is something I really wanted to accomplish."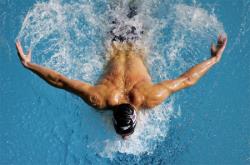 The performance took Michael Phelps's current tally of individual world records to five, to go with three relay world records. Since 2001, when he set his first world record in the 200m butterfly, Phelps has set at least one world record in all but one, the year 2005. That was another post-Olympic year, and Phelps's coach, Bob Bowman, said he hadn't been sure that Phelps would lower a world mark this season as he retools his training to tackle shorter events. "I was hoping he'd be on the World Championship team," Bowman said. "I wasn't sure he'd break a world record this year." In fact, Phelps has now qualified for three events at the upcoming World Championships in Rome, after victories in the 200-meter free and 200m butterfly on Wednesday. He is slated to race the 100m freestyle on Friday.
Neither of his 200-meter victories here was up to his exacting standards, and when he saw his time on Thursday Phelps ripped off his cap in celebration as spectators at the Indianapolis University Natatorium rose and cheered.
The fact that the record had stood for four years, and was held by his friend and intense rival Crocker, made the performance even more satisfying.
Phelps managed to seize the world record in 2003 - for a day - lowering the mark in the semi-finals of the World Championships in Barcelona before Crocker responded by reclaiming it in the final. "I've wanted it ever since then," Phelps said. Phelps, who bested Crocker in 2004 Olympic final, was stung by Crocker in the 2005 World Championship final.
"I think this means a lot," Bowman said. "In the race where Ian broke that record, that's the worst that Michael has ever been beaten. That was an amazing record and that's why it has stood the test of time."