Abhinav Bindra wins Olympic Gold Medal for India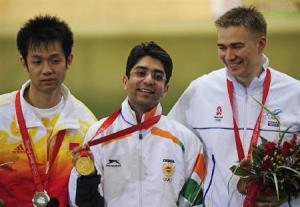 Abhinav Bindra is the first ever individual gold medal winner for India at the Olympics. Abhinav Bindra won a gold medal at the 2008 Beijing Olympics in Men's 10m Air Rifle shooting. Abhinav Bindra won India's first-ever individual Olympic gold medal on Monday with a thrilling come-from-behind victory in the men's 10m air rifle. Bindra had been fourth after qualifying but had a brilliant final round and even hit a near-perfect 10.8 on his last shot to pull in front of Henri Hakkinen of Finland, who dropped to bronze with a poor final shot of 9.7. That allowed China's Zhu Qinan, the defending Olympic champion, and heavy favorite, to pass him on his final shot and win the silver medal. "It's just great," Bindra told Reuters just before climbing onto the podium.
Join us in congratulating Bindra. Post your comments below to congratulate Abhinav Bindra for winning Gold Medal for India at Beijing Olympics 2008.
"I can't describe how happy I am," the ever-calm Bindra told journalists. "It's the thrill of my life. That's about it. It's hard to describe. I just went for it. I knew I was lying in fourth. Thankfully it went my way and I just went for it."
Abhinav Bindra, who faced criticism for failing to deliver on the great promise he showed as a child, said he was not thinking about making history in India with the first individual gold medal. In fact, he said, he was "not thinking about anything". "I was just trying to concentrate on shooting," he said. "I wasn't thinking of making history. I was two points behind the leaders. I was just trying to shoot good shots. I wanted to shoot well and shoot aggressively. And that's what I did."
His 10.8 of a possible 10.9 on his final shot sparked loud celebrations from a group of fans from India. Randhir Singh, Indian Olympic Association secretary-general and former shooter who was present at the range, was stricken by nerves as the competition reached its climax.
"I haven't prayed so much in my life. With the second last shot they tied together and then he (Bindra) shot a 10.8. It couldn't have got better," he told Indian television.
Abhinav Bindra won the 2006 world championships and finished seventh in Athens four years ago.
About Abhinav Bindra
Abhinav Bindra (born September 28, 1982) is an Indian shooter specializing in the 10 m Air Rifle event. At the 2008 Beijing Olympic Games, he became the first Indian to win an individual gold medal at the Olympic Games and the first gold medal since 1980 for India by winning the gold in the 10 m Air Rifle event.
Abhinav Bindra was the youngest Indian participant in the 2000 Olympic Games. He won six gold medals at various international meets in 2001. In the 10 m Air rifle event at the 2002 Commonwealth Games, Manchester, he won Gold in the Pairs event and Silver in the individual event. At the 2004 Olympic Games, he broke the Olympic record but failed to win a medal. He is a recipient of the Arjuna award in 2001 and the Rajiv Gandhi Khel Ratna award for the year 2001-2002. Abhinav Bindra's potential talent was first spotted by his first coach Lt. Col. J.S. Dhillon.
Apart from being a shooter, Abhinav Bindra holds an M.B.A. (Masters in Business Administration). He is the CEO of Abhinav Futuristics, a PC games peripherals distributor based in Chandigarh.
Winning Gold Medal for India
At the 2008 Beijing Olympics, Abhinav Bindra won the gold in the Men's 10m Air Rifle final after shooting a total of 700.5, thus becoming the first Indian individual gold medallist ever at the Olympics. He scored 596 (fourth) in the qualifying round and out-scored all other shooters in the finals with a round of 104.5. This was India's first individual gold medal at the Olympics, and the first gold in 28 years since the Men's Hockey team won the gold at the 1980 Moscow Olympics.