Ewa Mataya Laurance - Professional Billards Female Player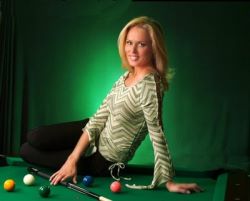 Ewa Laurance (aka Ewa Mataya aka the Striking Viking) was born on February 26, 1964 in Gvle, Sweden. She is a Swedish-American professional pool player, most notably on the Women's Professional Billiard Association nine-ball tour. She is also a sports commentator for ESPN. Laurance is playing pool since she was 14 years old in her native country and moved to the United States in 1983. At the age of 17 in 1982, she married the colorful pool pro Jimmy Mataya, fourteen years her senior, forming pool's first power couple. They have a daughter, Nikki, born in 1985, but later divorced, with Ewa retaining the surname Mataya, as she was already professionally well known by this name.
She has authored three books related with pool i.e. The Ewa Mataya Pool Guide, The Complete Idiot's Guide to Pool and Billiards and Quick Start Guide to Pocket Billiards. She has also written monthly columns for the Pool & Billiard magazine. In 2004, she was inducted into the Billiard Congress of America's Hall of Fame. In 2005, Ewa Mataya Laurance bested three of her peers, WPBA tour members Allison Fisher, Dawn Hopkins, and Gerda Hofstatter, at the Women's Trick Shot Challenge held at the New York Hotel Casino in Las Vegas, Nevada, pocketing $25,000 as the grand prize. She has also done modeling for many brands.
She was the co-host of the GSN original game show Ballbreakers. She has hosted the Ultimate Pool Party on ESPN. She has also been a model, appearing in TV commercials for No Nonsense brand pantyhose. Her recent TV appearance was on National Bingo Night on June 1, 2007.