Commonwealth Games 2010 in Delhi - 2010 Commonwealth Games
Commonwealth Games 2010 Delhi India - The 2010 Commonwealth Games will be held in Delhi from 3-14 October 2010. India previously hosted the Asian Games in 1951 and 1982. Apex Committee, which will conduct the games, will be headed by the President of the Indian Olympic Association, Suresh Kalmandi. The host city Delhi is being given a face-lift. Many new things are being added as a part of it. An estimated amount of $ 17.5 billions is likely to be invested for the changes that will prepare the city for the event. A major addition is the modern games village that is being built along the bank of Yamuna River by the Delhi Development Authority. The village is surrounded by the world famous Indian monuments like Humayun?s tomb, Akshardham Temple, Bahai temple.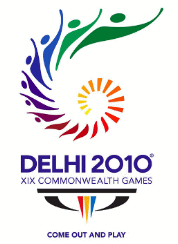 The logo for the event was revealed on 6 January 2008 at an event-taking place at the India Gate. Seventeen (17) sports events that will take place in this edition of games are: Aquatics, Archery, Athletics, Badminton, Boxing, Cycling, Gymnastics, Hockey, Lawn Bowls, Netball, Rugby, Shooting, Squash, Table Tennis, Tennis, Weight Lifting and Wrestling. Many new games are likely to be included in the event and are still under consideration such as Cricket, Swimming, Snooker, Tennis, Billiards etc. Schedule, Fixtures, Events, Information and Dates of Commonwealth Games 2010 in Delhi will be updated as soon as possible.