Tata NANO - Worlds Cheapest Car : Specifications & Reviews
Tata Motors, One of the India's Biggest Car Companies recently launched their long awaited one lakh rupee car in India with the name "Tata Nano". With the launch of Tata Nano, it became the world's cheapest car. The critics initially derided the concept mainly on the basis of the price target, more so as oil and steel prices rocketed. But Ratan Tata still kept his promise and delivered the Nano almost at his target price, forcing global car makers to take note. In fact, many top atomobile giants are now scurrying for their own versions to meet growing environmental and cost concerns.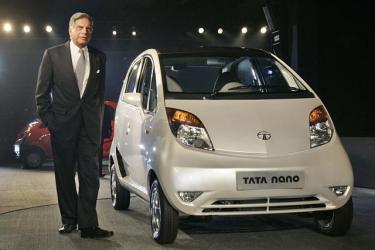 Tata Company Chairman Ratan Tata announces the newly launched Tata Nano at the 9th Auto Expo in New Delhi, India, Thursday, Jan. 10, 2008. India's Tata Motors unveiled its much anticipated US$2,500 car, an ultracheap price tag that suddenly brings car ownership into the reach of tens of millions of people across the world.
Keeping his promise, made four years ago, to deliver a "people's car," Tata Group Chairman Ratan Tata unveiled on Thursday the INR 1 Lakh car 'Tata Nano'. The world's cheapest car from the Tata Motors stable comes with a rear mounted all aluminium two cylinder 623 cc petrol engine, promises a mileage of 20 km per litre, and meets all emission and safety standards. The Tata Nano car is expected to be available at only 1,300.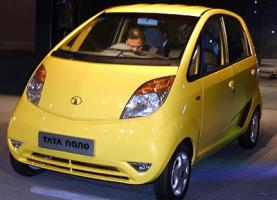 "The vision was to give the people of India a car which is not produced anywhere else in the world. Through Nano, which denotes high technology and small size, I have tried to provide a reliable mode of transport to every Indian family," Mr. Tata told an overflowing press conference attended by Indian as well as international media at the inaugural day of the Auto Expo 2008 here. Nano is 3.1-metre long, 1.5-metre wide, and 1.6-metre high. "Though it is eight per cent smaller than Maruti 800 (bumper-to-bumper), it is 21 per cent more spacious from inside," Mr. Tata pointed out. Referring to the safety aspect, he noted that the car had passed a full frontal crash test.
Nano comes in an all sheet-metal body, with safety features such as crumple zones, intrusion-resistant doors, seat-belts, strong seats and anchorages, and rear tailgate glass bonded to the body. Mr. Tata confirmed that Nano met all current legislative emission norms and could be upgraded to meet Euro IV norms.
"It has a lower pollution level than two-wheelers," Mr. Tata assured environmentalists who have been expressing apprehensions about the impact of this project on the environment. Mr. Tata warmly thanked the Left Front government in West Bengal for its support to the project during difficult times.
The 'People's Car', which got critics and well-wishers all awestruck at Pragati Maidan on morning of January 10, 2008, is now not only being talked about as the 'future car'.
Expert say it will also determine India's place in the global automotive arena and possibly give a leap to India's dream of becoming a global hub of small cars. The car, feel experts, is more than value for money with its 20 kmpl average and the smart price.
Booking Tata Nano Car
Many are looking eagerly for booking the TATA NANO Car. TATA website does not have any clear dates or instructions for booking the TATA NANO car yet. Tata Nano is also being looked as the perfect replacement to taxi & auto rickshaws so it is some how a threat to the taxi and auto (public transport) category. It is estimated that taxi owners will start booking this car in advance that too in bulk!
Specifications of Tata Nano
VEHICLE SUMMARY
Name:
Tata Nano
Model:
Petrol
Car Body Type:
Hatchback
Segment:
A Segment
Top Speed:
90
Fuel Consumption: Highway
26.00
Fuel Consumption: City
22.00
ENGINE SPECIFICATIONS
Displacement:
796cc, 3 cylinder
Engine Type:
Petrol
Maximum Power:
33bhp
Maximum Torque:
0
OTHER SPECIFICATIONS
Seating Capacity:
4
Tyre Size:
0
Steering:
No Power Steering
Brakes:
Front Disk, Rear Drum
Gears:
4 Manual
Fuel Tank:
30.00
Body Color Bumpers:
Yes
Tachometer:
No
Alloys:
No
ORVM Indicator:
No
Xenon Headlamps:
No
Headlamp Washer:
No

COMFORT AND CONVENIENCE
AC:
Without Climate Control
Power Windows:
Central Locking:
Manual
Remote Boot:
No
Remote Fuel Filler:
No
Rear Wiper:
No
Rear Defogger:
No
Steering Adjustment (Rake/Reach):
No
Driver Seat Adjustment:
Manual
Leather Seats:
No
Door Mirror:
Driver Side
Tinted Glass:
No
Rear AC Vent:
No
Folding Rear Seats:
No
Sun Roof:
No
Buttons/Controls on Steering:
No
Auto Viper:
No
Auto Headlamp:
No
ACTIVE AND PASSIVE SAFETY
Airbag:
No
Parking Sensors:
No
Fog Lamp:
Traction Control:
No
EBD:
No
ABS:
No
ESP:
No
Here are the first reactions of some of the most prominent industry experts as they told to various news agencies after the launch of Tata Nano.
Jagdish Khattar, former managing director, Maruti Suzuki
"The car is good to look at. There is a space in the market between two-wheelers and the 800 (Maruti's small car). It will be a success if they deliver what they promised. And I see no reason why they can't."
Ramesh Suri, Chairman, Subros
"The best thing is that they have kept the price at levels promised at concept stage. It is good to look at. I can't say about the driving experience as I have not taken a trial."
Shinzo Nakanishi, Managing Director, Maruti Suzuki India Ltd
"We cannot make a cheaper car. We don't know how to make a Rs 1 lakh car unless we sacrifice something. We won't go below the 800 in our product line-up, but this car may impact some of our Maruti 800 sales"
Anand Mahindra, Managing Director, Mahindra & Mahindra Ltd
"I think it's a moment of history and I'm delighted an Indian company is leading the way."
Venu Srinivasan, Chairman & Managing Director, TVS Motor Co
"It is fantastic, outstanding engineering. It helps redefine the sector in the country. It has established new grounds."
P Sam, Group Head, Marketing & Sales, Yamaha Motor India Sales Pvt Ltd
"The Rs 1 lakh rupee car is not going to impact our potential customers. Our customers would buy our products for the sheer joy of riding."
Onkar Kanwar, Apollo Tyres Ltd
"I congratulate Tata. He has delivered what he promised."
P Balendran, Director and Vice President, General Motors India
"It's an exciting product. I don't think it will not affect small car market, but it may have an affect on the sales of two-wheelers and second-hand small cars."
Sylvain Bilaine, Managing Director, Renault India
"Tata's car is cute and he (Ratan Tata) is doing a great job. I would like to see in the coming months the retail price."
Ashok Singh, Delhi Police Constable:
"It is a dream come true. I look forward to buying that car. My wife will be really happy."
G Colquhoun, Reader in Manufacturing Systems, School of Engineering, Liverpool
"This is an important step for Asian markets. I look forward to this car being introduced in European markets."