Nissan NV200 Concept Car
Nissan NV200 Concept is perfectly suited for a professional diver/underwater photographer. Within its relatively short body for a utility vehicle, Nissan's NV200 concept car manages compartments for all the gear needed on this fanciful venture: dive tanks, spotlights, underwater scooters, and wet lockers, as well as a shower, sink, refrigerator, and first-aid kit. And then there are the computer table, the desk chair, and the laptop, of course, for when those photos have to be downloaded and edited tonight before being shipped to National Geographic.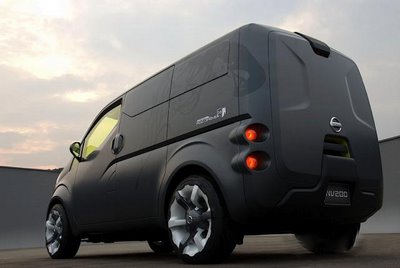 The NV200 concept is Nissan?s imaginative take on the seemingly evergreen "functional box" design brief as a means to riff on the next generation of light commercial vehicle. Ready to hit Tokyo with its tasty mix of utility and high-end styling, the NV200's instant wow item is the storage area that conspicuously slides from the rear of the van. In the show car iteration, the storage area is filled with the tools of the trade for an ocean photographer (natch), replete with flipper cubbies and an editing desk.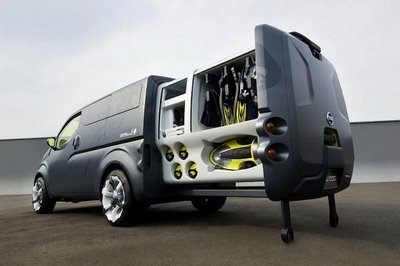 The sliding rear compartment is designed to be customizable, housing a pod that can be changed as the needs of the owner shift. Mix and match trays and boxes can be arranged to suit any number of profession specific equipment. Calling the exterior styling "substantial" and "rugged-looking" Nissan may be overlooking the sense of whimsy evoked by their forward looking van. Lego brick wheels and a floral theme (similar to styling on Citroen?s C-Cactus) add visual interest, without seeming especially substantial to us. Inside the NV, Nissan has created a rather elegant space, using the flashy green tones sparingly in concert with a rich wooden floor, and nicely simple seating.