India Won Twenty20 World Cup - Twenty20 World Championship
A youthful Indian cricket team, full of vigour and determination, made history here Monday by beating Pakistan by five runs to clinch the Twenty20 World Championship when all seemed lost. India kept their nerves to clinch the win with three balls to spare and sent the New Wanderers Stadium, packed with Indian supporters, into wild celebrations. There were also millions of Indian across the globe who rejoiced the sweet triumph. Off the last over, bowled by pacer Joginder Sharma, Pakistan required 13 runs to win with the last wicket remaining - and all seemed lost for India. But Joginder, the man with the golden arm - he had also bowled the crucial final over in the semi-finals upset of Australia - castled Misbah-ul-Haq to help script an epoch-making win with and signal wild celebrations at the New Wanderers Stadium.
Twenty20 World Cup Winners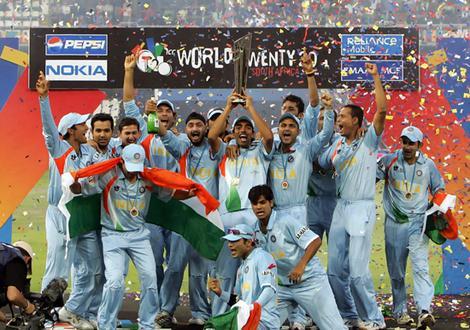 India lift the ICC World Twenty20 trophy at the end of a thrilling final against Pakistan, Johannesburg, September 24, 2007
Scores: India 157 for five in 20 overs after winning the toss and Pakistan 152 all out in 19.2 overs.
While Joginder successfully bowled the final over, it was left-arm pacer Irfan Pathan who captured three crucial wickets in an excellent spell to tilt the tide in India's favour. His final bowling analysis of 4-0-16-3 fetched him the Man of the Match award and helped India win the maiden edition of the newest version of the game. On a day when the Indian batsmen - barring Gautam Gambhir's resolute and enterprising 75 off 54 balls (8x4s, 2x6s) and Rohit Sharma's unbeaten 30 off 16 balls (2x4s, 1x6) - failed, the bowlers did the trick again. Left-armer Rudra Pratap Singh also bowled superbly to start Pakistan's downfall and also ended up with three wickets. Joginder took two wickets.
Their efforts meant that Misbah's 38-ball 43 (4x6s) - the top score for Pakistan - as well as Imran Nazir's 33 (14 balls, 4x4s, 2x6) went in vain. The only consolation for Pakistan was that Shahid Afridi, who failed to score a run and take a wicket, was adjudged the Man of the Series. The win wiped out bad memories of the World Cup five months ago, when India - as also Pakistan - had crashed out in the first round, leading to prolonged national mourning and criticism. The win - achieved without Sachin Tendulkar, Rahul Dravid and Sourav Ganguly, who all had opted out - also kept India's slate clean against Pakistan in cricket's global competitions. India have never lost to Pakistan in the ODI World Cup - and now in Twenty20 too.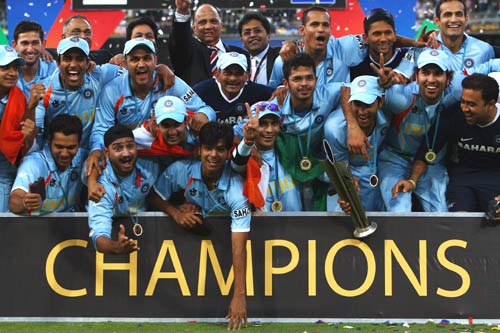 Champions - officially. The entire Indian team contingent joins in, Johannesburg, September 24, 2007
It was India's second win over Pakistan in the 12-nation tournament, and Mahendra Singh Dhoni's boys won both. In the Super Eights, India had won the 'bowl out' tiebreaker 3-0 after their scores were tied after the regulation period. India and Pakistan were playing for the first time in the final of a world-level tournament - if the 1985 World Championship of Cricket is not taken into account - and Dhoni's team gave much to shout about at the end of it. India had also beaten Pakistan in the final of the World Championship of Cricket in Melbourne. Although all the Test-playing nations had taken part in that competition, it was a one-off venture organised by Victoria.
Wild celebrations erupted when Sreesanth caught a lofty shot from Misbah when the game could have gone either way. As a despondent Haq sank to his knees while Indian players went crazy with joy, it was jubilation time for Indians. Good bowling from Pakistan restricted the Indian batsmen, but an admirable and determined counter-attack led to Pakistan's collapse.
Chasing India's total, Pakistan got a shock early on in their innings when R.P. Singh, who is going through a purple patch, struck off the fifth ball of his first over. As opener Mohammed Hafeez tried to guide the ball over the slips, he managed to give Robin Uthappa an easy catch at first slip. Pakistan: two for one. With the addition of 24 runs, R.P. Singh struck again, castling an experienced wicket-keeper Kamran Akmal for nought. Pakistan: 26 for two. Imran Nazir, who looked in ominous form, and Younis Khan then tried to steady the ship, but after adding only 26 for the third wicket Nazir (33, 14 balls, 4x4s, 2x6) became the target of Uthappa's direct throw after he reacted late to Younis's call for a run off Sreesanth. Younis made 24 in as many balls and hit four boundaries but Joginder in the ninth removed him as he mistimed a fuller length delivery, giving Yusuf the catch at mid-on. Soon, Malik and Afridi were also back in the pavilion. Misbah and Yasir Arafat (15) added 27 for the seventh wicket to keep Pakistan in the hunt. Then Misbah and Sohail Tanvir added 34 crucial runs for the eighth wicket. But once Sreesanth got rid of Tanvir, all the responsibility fell on Misbah's shoulders in the company of Umar Gul and Mohammed Asif. Eventually, Misbah also caved in under the pressure as he tried to play the scoop shot over fine leg off Joginder only to hole out into the hands of Sreesanth - and signal India's win.
India won Twenty20 World Cup
Earlier in the day, Dhoni won the toss but the Indian batting failed to live up to expectations after Virender Sehwag was ruled out of the match with injury. Even the total of 157 would not have been possible but for Gambhir's knock of 75 and young Rohit's cameo towards the end of the innings. Yuvraj Singh, who has been in fabulous form in this competition, failed to click and managed only 14 off 19 balls (1x4) as the Pakistan bowlers and fielders looked sharp and purposeful. Debutant Yusuf Pathan, Irfan's elder brother, had a sensational start to his international career by hitting pacer Mohammed Asif for a six as his first scoring stroke. But he scored 15 (8 balls, 1x4, 1x6) before getting out. Pacer Umar Gul was the pick of the bowlers as he took three wickets for 28 in four overs. Earlier, India got a scare off the very first ball of the match when non-striker Yusuf barely avoided being run out after hesitating to take a single called by Gambhir. Undaunted, Yusuf hit the fourth ball of Asif's opening over for a huge six. He hit another boundary off a wide ball from the same bowler in the third over. But off the next ball Asif took his revenge. Asif had the tall Vadodara batsman caught off a miscued pull shot. As Pathan tried to pull the short delivery over midwicket he mistimed it and captain Shoaib Malik at mid-on ran back to grab the catch. As Uthappa attempted to hit over the infielders off left-arm pacer Sohail Tanvir he mistimed the shot and Shahid Afridi at extra cover took a comfortable catch. A 63-run third-wicket partnership between Gambhir, who looked in fine touch, and Yuvraj saved the innings from total collapse and India from complete embarrassment. However, Yuvraj failed to reproduce his form and was out, top edging a forceful pull shot. Gul easily took the catch off his own bowling. After that partnership, there was not much fight seemed to have left in the Indian camp, though young Rohit came up with another gutsy knock.