Sachin Tendulkar Facts - Interesting Facts about Sachin Tendulkar
Here is a collection of interesting facts about Sachin Tendulkar. Some of them are well-known and a few of these priceless gems are in the knowledge of only die-hard Sachin fans. Take a look and if you are versed with something we have missed out; go ahead and submit it in the comments section below.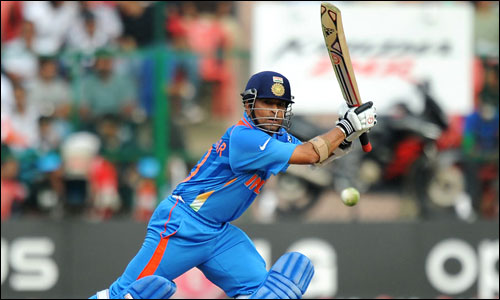 Facts about Sachin Tendulkar
1. Sachin Tendulkar wanted to become a fast bowler, but when he was rejected by Dennis Lillee's MRF Pace Foundation in 1987. Lillee told the young Tendulkar to focus on his batting. The other youngster turned away by Lillee along with Tendulkar was Sourav Ganguly.
2. Sachin Tendulkar fielded for Pakistan as a substitute during a one-day practice match against India at the Brabourne Stadium in 1988.
3. Sachin Tendulkar and Vinod Kambli set a world record partnership of 664 runs in the Harris Shield, an inter-school tournament in Mumbai. Tendulkar scored an unbeaten 326 runs and reportedly the mammoth stand literally drove the opposition to tears.
4. Sachin Tendulkar at the age of 19 became the youngest Indian to play in county cricket.
5. Sachin Tendulkar had to wait for 79 matches for his first ODI century and by that time he had scored seven Test hundreds.
6. Sachin Tendulkar was the first batsman to be given out by the Third-umpire. In 1992, on the second day of the Durban Test, a Jonty Rhodes throw caught Tendulkar short of the crease. After watching TV replays he was adjudged out.
7. Sachin Tendulkar made his Test debut in 1989 against Pakistan in Karachi. In the same match, Pakistani pacer Waqar Younis also played his first Test match ever.
8. Sachin Tendulkar went to Sharadashram Vidyamandir School only after coach Ramakant Achrekar saw his batting potential. Achrekar was the cricket coach of Sharadashram Vidyamandir School. Before enrolling at Shardashram, Tendulkar went to New England School of Indian Education Society in East Bandra
9. The first brand which Sachin Tendulkar endorsed was the health drink 'Boost'. He was seen alongside Kapil Dev in many of their ad films, the start of which happened in 1990.
10. English fast bowler Allan Mulally playing in his debut Test against India complained that Sachin Tendulkar was batting with a bat broader than the normal willow. That's how much Tendulkar had psyched the bowler with his brilliant batting.
11. Sachin Tendulkar started off with centuries in his debut matches in the Ranji, Duleep and Irani Trophy. No other domestic cricketer has been able to break this record till now.
12. Sachin Tendulkar was done in by a sharp bouncer from Zimbabwe's Henry Olonga in a league match at Sharjah in 1998. In the final match against the same opposition, Tendulkar had his revenge as he smashed the bowler all around the ground and belted an unbeaten 118 runs.
13. Sachin Tendulkar is a big fan of tennis legend John McEnroe. In his formative years, McEnroe was Tendulkar's idol. The young Sachin pleaded his parents to get a similar headband and wristbands like McEnroe. Also take one look at his childhood snaps and the McEnroe styled shock of hair on his head tells everything.
14. Sachin Tendulkar was named after the great musician SD Burman. Sachin's father's, Ramesh Tendulkar was a big fan of SD's music.
15. Sachin Tendulkar was led onto the field on his Ranji debut by his then captain, Ravi Shastri.
16. Sachin Tendulkar was gifted a Ferrari 360 Modena by F1 champion Michael Schumacher in 2002. Ferrari presented the car to Sachin in honour of him equalling Don Bradman's record of 29 Test centuries.
17. Sachin Tendulkar spoke to his favourite music star, Mark Knopfler, the lead guitarist of the rock band, Dire Straits for the very first time during a programme he was doing for the ESPN network. It was Sachin's birthday and it turned out to be a happy surprise for him.
18. Sachin Tendulkar went to watch the movie Roja in 1995 with a beard and disguise. And it all went wrong when his glasses fell off and the crowd in the cinema hall recognised him.
19. Sachin Tendulkar returned from a four-month tour of Australia after the 1992 World Cup and immediately turned up to represent Kirti College in April 1992. That's some commitment from a cricketer who was already a superstar by then.
20. Sachin Tendulkar uses a very heavy bat at the crease, weighing 3.2lbs. Only South Africa's Lance Klusener used a heavier bat in world cricket.
21. Sachin Tendulkar was without a bat contract until the start of the 1996 Cricket World Cup. At the end of the tournament a famous tyre manufacturer sponsored his willow.
22. Sachin Tendulkar was a big bully in the school. Whenever his friend introduced him to a new kid in the school, Tendulkar would invariably ask, "Will I be able to beat him?" He was famous for picking up a fight.
23. Sachin Tendulkar asked his friend to dip the tennis ball in a bucket of water and hurl at him so that he could find out whether he was hitting ball from the middle of his bat.
24. Sachin Tendulkar has been granted the Rajiv Gandhi Khel Ratna, Arjuna Award and Padma Shri by Indian government. He is the only Indian cricketer to get all of them.
25. Sachin Tendulkar played for Yorkshire what was so special about it? Well, he was the county side's first overseas professional ever. He averaged 46.52 with the bat in his stint with the county team.
26. Sachin Tendulkar's wife Anjali does not eat or drink whenever the Master is at the crease.
27. Sachin Tendulkar was most fascinated by band-aids. A hint of a wound and he would plaster it all over the injury.
28. Sachin Tendulkar loves collecting perfumes and watches.
29. Sachin Tendulkar batted in his debut Test against Pakistan wearing the pads gifted to him by Sunil Gavaskar.
30. In 1992 Sachin became the youngest cricketer to reach 1000 runs in Test cricket.
31. Ian Healy was the first bowler to get him stumped out on Mark Waugh's bowling in World Cup 1996.
32. Sachin's record of five test centuries before he turned 20 is a current world record.
33. Tendulkar is the only player who has 40 wickets and more than 13000 runs in Tests.
34. Sachin Tendulkar has the most number of Stadium Appearances: 90 different Grounds.
35. Sachin Tendulkar with Sourav Ganguly hold the world record for the maximum number of runs scored by the opening partnership. They have put together 6,271 runs in 128 matches.
36. He has 20 century partnerships for opening pair with Sourav Ganguly. It is a world record.
37. Tendulkar has scored most Centuries in a calendar year: 9 ODI centuries in 1998.
38. In 1998 he made 1,894 ODI runs, a record for ODI runs by any batsman in a calendar year.
39. Sachin was given a pair of pads by his cricket hero Sunil Gavaskar when he was a school boy.