Nokia N8 Smartphone Features & Pictures
Nokia today took the wraps off its most strategically important product designed to take on the iPhone and Blackberry in the smartphone market, the unibody Nokia N8. The Nokia N8 introduces a 12 megapixel camera with Carl Zeiss optics and Xenon flash, HD-quality video recording, film editing software and Dolby surround sound. All in a beautiful, aluminium design. Take amazing photos and videos, connect to your favourite social networks and be entertained with the latest Web TV programs and Ovi Store apps.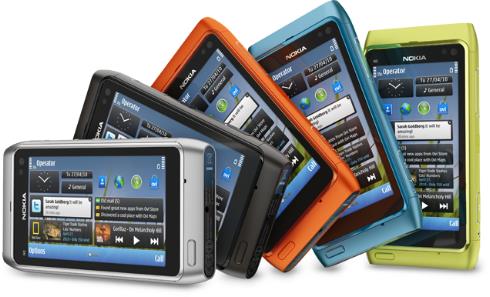 The Nokia N8 Smartphone is the first Nokia phone to run Symbian 3 software and won't ship until the third quarter. Features of the $493 device aren't bad – a 12 megapixel camera with Carl Zeiss optics and Xenon Flash, a 3.5-inch HD touchscreen and HD video capture along with video editing tools.
Symbian 3 offers support for gestures such as multi touch, flick scrolling and pinch-zoom. The Nokia N8 also offers multiple, personalizable homescreens which can be loaded with apps and widgets. The new 2D and 3D graphics architecture in the platform takes full advantage of the Nokia N8's hardware acceleration to deliver a faster and more responsive user interface. "Symbian 3 is evolutionary not revolutionary, but N8, if reliable, is a first step in efforts to make Nokia's high-end phones credible again," said Ben Wood, head of research at CCS Insight.
The Nokia N8 smartphone has 16GB onboard storage with the ability to expand up to 48GB with a micro SD card. Ovi Maps and free turn-by-turn navigation for 70 countries also feature. The phone provides access to Web TV services that deliver programs, news and entertainment from channels like CNN, E! Entertainment, Paramount and National Geographic. Additional local Web TV content is also available from the Ovi Store. Facebook and Twitter apps also feature. The Nokia N8 device is carved from a single piece of aluminium (hence the unibody crack), the N8 will be available in five different colors.