Nokia N91 8GB Music Edition - Photos, Specifications & Reviews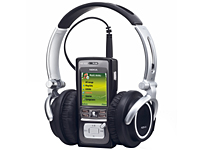 Nokia N91
, made famous as the phone with the integrated hard disk gives good reason for all the hype that has been surrounding the handset ever since its official announcement. Again a sliding design (must say I widely prefer this to the clamshells) , the N91 does not have dual sliding options like the N95 but a simple standard slider. For style czars, the N91 seems the perfect choice since it is encased in stylish stainless steel. Now the hard drive itself has a capacity of 4 gigabytes. For those who want to better understand what that figure means, consider this, the device can store up to 3000 songs. The
Nokia N91
supports a wide range of digital music formats including MP3, M4A, AAC and WMA. It also has a stereo FM radio if you ever get tired of your own collection. The
8 GB music edition
, focused on the demand of users for more space and like the iPod gave them a version with double the capacity of the original N91 (8 gigs instead of the earlier 4).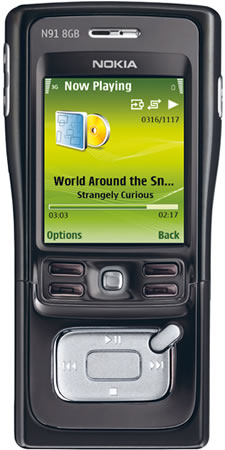 Unlike its other N-series counterparts, the N91 was never claimed to be a full multimedia computer. Rather it was the perfect music player and cell phone rolled into one, with enough features and compatibility to even take on the iconic iPod. Of course, the N91 failed to do anything so dramatic but it was not due to lack of effort on the part of Nokia. The press release itself mentioned several ways in which the N91 differentiated itself from other cell phones with music players.
Nokia N91 is compatible with a number of accessories from industry leading brands Bose, Harman Kardon, JBL, and Sennheiser. In addition to using their favorite audio accessories with the Nokia N91 through its standard 3.5mm jack, consumers can maximize their audio experience by choosing products from a line-up of Nokia tested and recommended audio accessories.
Get Music
Packed with multiple connectivity options, such as WCDMA, WLAN and Bluetooth wireless technology, the Nokia N91 makes it easy for you to find and enjoy music when and where you want. With the Nokia N91, you can quickly and easily find and purchase music over the air to your device from your operator's music store.
Manage Music
Drag and drop your personal music collection from your PC to your Nokia N91 or synchronize your recent music purchases with your PC via USB 2.0. You can also create and manage your playlists directly on your Nokia N91, or shuffle songs around to build your optimal listening experience.
Share Music
A revolutionary feature of the Nokia N91 is the possibility to share your playlists with friends by multimedia message, email or Bluetooth. Proudly show off your musical taste or simply share the latest songs that have been stuck in your head.
Available in markets now, the N91 also has a 2 mega pixel camera integrated with it. More of a jukebox rather than a phone, the N91 sure beats carrying around different devices for playing music and chatting with pals.