Nokia 6300 Mobile Phone - Review & Specifications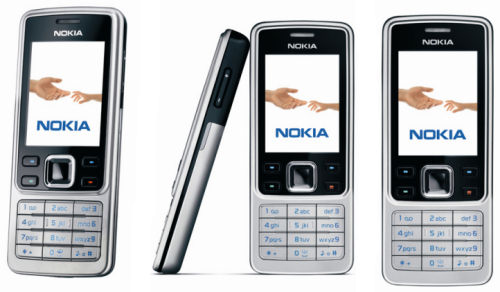 The Nokia 6300 mobile phone has been developed for consumers who want a mobile phone that offers an uncompromised set of features with highly desirable, sophisticated design. The clean lines and recessed buttons of the Nokia 6300 Mobile Phone are highlighted by a stainless steel frame that adds both design interest and strength. In addition to its organic curves and appealing design, the Nokia 6300 offers a robust range of easy-to-use features, including a 2 megapixel camera with zoom, expandable memory, built-in MP3 player and FM radio. Everything is displayed on a crisp, detailed screen which brings applications like an Opera Mini Browser or games like Sudoku and Snakes III to life.
Compact modern design featuring sophisticated stainless-steel covers, glossy black finish, and rounded edges
Catch and keep those treasured moments with the 2 megapixel camera with 8x digital zoom
Get entertainment when you want it with the music player, FM stereo radio, and video player
See more at a glance with the 240 x 320 resolution screen with up to 16 million true colors
Access your email on the go and send messages with attachments
Store music, videos, and photos with up to 2GB expandable memory
Operating frequency
GSM/EDGE coverage (900/1800/1900; 850/1800/1900)
Size
Volume 56cc
Weight: 91 gms 91 gms >
Dimensions: 106.4 x 43.6 x 11.7 mm 106.4 x 43.6 x 11.7 mm >
Display
Main display: 2 inch 240 x 320 (TFT) QVGA with up to 16.7 million true colors display: 2 inch 240 x 320 (tft) qvga with up to 16.7 million true colors >
User Interface
New enhanced Series 40 user interface
2 megapixel camera with 8x digital zoom
Full screen viewfinder
Video recorder and player
Messaging
Email client with attachments (Java version)
MMS: OMA MMS 1.2 for creating, receiving, editing and sending multimedia messages (messages up to 300 kb) oma mms 1.2 for creating, receiving, editing and sending multimedia messages (messages up to 300 kb) >
Push to talk
Instant messaging
Nokia Xpress on audio messaging (AMS) ? a fast and simple way to send voice or sound clips via MMS
Music player supporting MP3, MP4, AAC, AAC+, eAAC+, H.263, H.264
FM stereo radio with Visual Radio
Streaming video (3GPP)
DRM release 2.0
XHTML browser
Java: MIDP 2.0 midp 2.0 >
Macromedia Flash Lite 2.0 for richer digital content
Memory Functions
Up to 7.8 MB internal user memory
Expandable memory: microSD card up to 2GB memory: microsd card up to 2gb >
Applications
Java? MIDP 2.0 games and applications
Connectivity
Bluetooth version 2.0 with Enhanced Data Rate (includes SIM access and Headset and Handsfree profiles) and stereo support for headsets
Local and remote device-to-device data synchronization with SyncML (calendar, to-do list, phonebook)
Full OMA Client provisioning
PC synchronization using Nokia PC Suite with USB and Bluetooth connectivity
Internet
EDGE (EGPRS): Class 10 (egprs): class 10 >
GPRS: Class 10 class 10 >
Personal Information Management (PIM)
Organizer with calendar, To-do list, and notes
Contacts (up to 1000)
Alarm clock and countdown timer (normal and interval timer)
Integrated loudspeaker for IHF
Push-to-talk (Nokia PoC 1.1)
Voice commands and voice recording
Digital Services
MP3 ringing tones, True tones, and MIDI tones for up to 64 polyphonic tones
Video ringing tones
Other Features
Flight and demo mode
FOTA ? Firmware update over the air
Battery & Talk Time
Battery - Battery BL-4C
Talk Time - Up to 3.5 hours
Stand By Time - Up to 14.5 days
Capacity - 860 mAh
Operation times vary depending on the network and usage.
Sales Package contents
Nokia 6300 Mobile Phone
Nokia Battery BL-4C
Nokia Charger AC-3
Nokia Headset HS-47
Nokia User Guide
CD-ROM
Micro SD card 128 MB MU-26
In short, the Nokia 6300 features a 2-inch QVGA display, 2.0 MP camera with 8x zoom, 7.8MB internal memory, a microSD card slot, EDGE, Bluetooth 2.0, an integrated FM tuner and a media player. Internal memory is a bit short and Nokia should have bundled a larger microSD card to compensate and a mini USB cable. But in general this is a solid and understated mid-range phone that deserves to be popular.