Nokia brings the new E71 and E66 mobile phones to India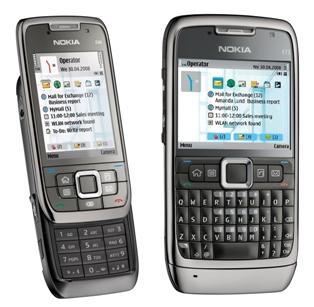 Nokia has announced the launch of the Nokia E71 and Nokia E66 in India. With these Nokia E-Series devices, people can get reliable real-time access to their email, calendar, contacts and tasks, as well as download attachments like Word, Excel, Powerpoint or PDF files directly on their devices, says the company. With QWERTY keyboard, Nokia E71 also enables users to edit MS Office documents. Both the phones run on the Symbian S60 v3.2 OS 9.2.
With upto 8 GB external memory, both the phones come with an integrated 3.2 MP camera with autofocus, assisted GPS (A-GPS), and Nokia Maps for navigation. The phones offer a range of connectivity options like HSDPA, wireless LAN, and 3G connectivity and EDGE. Both support the BlueTooth v2.0 standard with A2DP. The stainless steel Nokia E66 features an orientation sensor that automatically optimises itself for full screen viewing or activates the silent mode when the device is turned over. Nokia E71 and Nokia E66 come with a built-in encryption functionality for both the device memory and for the memory card, and include integrated mobile VPN support.
People who use Microsoft Exchange at work can access their email using the Mail for Exchange mobile email client, which comes pre-loaded with the Nokia E71 and Nokia E66. The phones support email accounts that includes Gmail, Yahoo! mail, and Hotmail. Additionally, Nokia E71 and Nokia E66 also support the Nokia Intellisync Wireless Email solution as well as third party email solutions like Seven and Visto Mobile.
Devinder Kishore, Director, Marketing, Nokia India, said, " The newly launched Nokia E71 & E66 are designed to enhance the way we work and increase productivity in our daily lives. They are meant for people who lead a mobile lifestyle and want quick and easy access to their personal and work email. With both of these devices, we have responded to consumer feedback by making calendar and contacts available at the touch of a button. With these two new devices and our extensive lineup up of market leading handsets, we are well positioned to address the needs of consumers, high-end users and mobile professionals alike."
Pricing & Availability
Nokia E71 and Nokia E66 will be available across the country at Rs 22,949 and Rs 23,689 respectively.