Google Display Breadcrumbs in Search Results
Google appears to be testing breadcrumbs in some search results, at least in some areas. If you are unfamiliar with the term breadcrumbs, it refers to the hierarchical display commonly used in site navigation. For example: Home Page > Products Section > Product Page. Do you utilize breadcrumbs on your site? If yes then you may want to know about " Rich Snippets" that Google uses to display breadcrumbs from your site in their search results.
Several bloggers have noticed Google displaying these types of breadcrumbs in various places in seemingly random results to some queries. For example, see the following screen shot: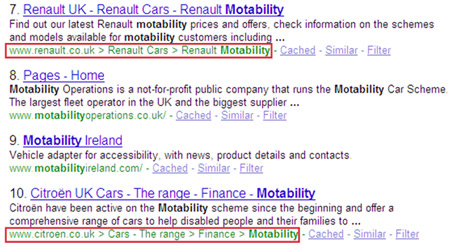 Google's use of breadcrumbs appears to only be a test, and a limited one at that. Google has talked repeatedly about sites having good site architecture in the past. This allows Google to more easily and quickly crawl sites.
Bing acknowledges this too. Rick DeJarnette of Bing Webmaster Center said, "You can have great content and a plethora of high quality inbound links from authority sites, but if your site