Google Launches Photovine - New Photo Sharing Social Network
Google has started rolling out a new social-networking photo service, called Photovine. The service is not yet live. Google has restricted access to Photovine only by invitation with an opportunity to request an invitation on Photovine's website. There is no indication of when the service will launch. In addition to requesting an invitation, potential customers can also watch a video of how this photo sharing social network service works.
Photo Sharing Social Network
For those who don't know, Photovine is a social image-sharing app for smartphones. According to their website, "Photovine is a fun way to learn about your friends, meet new people, and share your world like never before."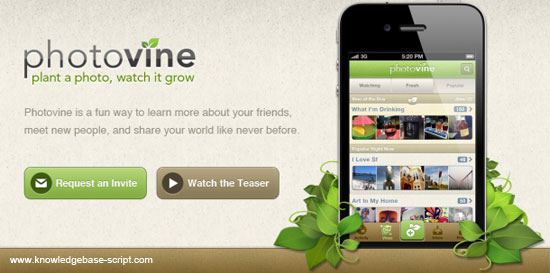 Though Google has not provided details about Photovine and how it will work but the service appears to be one in which consumers can take photographs from their mobile phones and have them upload in a stream of pictures in the same way that tweets flow into Twitter. Presumably, if you subscribe to someone else on Photovine, you'll see their latest photos almost as soon as they shoot them. Photovine seems like a concept that could catch on very quickly.
Photovine comes just as Google is ramping up its Google+ social-networking service. But it's not clear if the two services will be aligned to each other. One being a photo-sharing app designed for smartphones and other is a social networking community for both computers and mobile-devices.
The teaser video on the Photovine website features folks taking photos with iPhones, which clearly suggests that Photovine will be an iPhone app but there is no Photovine app available as of now in the App Store. It is also expected that Google will make it available for customers using phones that run its Android mobile operating system.
Photovine Invitation
I'm sure you would be looking for an invitation to join Photovine, the new photo-sharing social network by Google but please note that the only way to get Photovine invite is to get it from the official website. We will keep you updated on this topic if we get some more news about photovine invites.
Please feel free to share if you have any comments, questions about the new photo sharing social network service of Google. We would appreciate if you have some invites and willing to share them with our readers.
Photovine Video
Here is a video that provides an overview of Photovine and how it would work once released.