Bhai Dooj - Indian Festival of Brother-Sister Love
Bhai Dooj , also known as Bhai Dooj Tikka Festival is an important Indian festival to celebrate the beautiful relation of brother and sister with lot of joy and enthusiasm. Just as Diwali passes there begins an eager wait for Bhai Dooj celebration. Brothers and sisters shop for traditional Indian Mithais and special gifts for their siblings. Sisters also prepare special Pooja Thali to carry out Bhai Dooj ceremony. Brothers bless their sisters and give them cash or Bhai Dooj Gifts .
Bhai Dooj Festival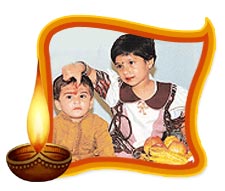 Bhai Dooj is usually celebrated a day after the festival of Diwali. So, the Bhai Dooj Date  can be calculated as the second day after diwali . On the day of Bhai Dooj Festival , sisters wake up early and prepare delicious festive food for their dear brother. As a custom, usually brothers' make a visit to their sister's place. Sisters' make their brother sit on an asana to carry out the ceremony. A sister then applies tika and akshat on brother's forehead and perform arti of him. She also give puts a sweet in brother's mouth and pamper him with gifts. Carrying out this simple ceremony sisters pray to the divine for the long life, health and happiness of her brother. Reciprocating the loving gesture, brother blesses his sister and indulges her with cash or delightful Bhai Dooj Gifts . Following this the family shares a happy time and relish the Bhai Dooj special food. These days brothers and sisters move out in the evening and recollect happy moments shared in the past.
Bhai Dooj Celebrations in India
Bhai dooj Festival is celebrated in most parts of India, especially northern India. In some states Bhai Dooj festival is known by different names and in some regions even the rituals and traditions of Bhai Dooj differ. Yet what is remarkably same is the spirit of the festival. At all places Bhai Dooj Festival is celebrated to strengthen the eternal bond of love shared between a brother and her sister. Given below is the short description of the Bhai Dooj Festival as celebrated in major parts of India.
The two words of the traditional festival of Bhai Dooj means Brother (Bhai or Bhaiya) and the second day after the new moon (Dooj). Bhai Dooj Festival or Bhaubeej Festival as it is known, is usually celebrated in the month of October or November every year. It falls on the third day of the Diwali festival that is the second day of the new moon night.
When in Bhai Dooj?
Bhai Dooj is celebrated two days after the grand celebrations of Diwali festival. The festival of Bhaiya Dooj is observed among Hindus throughout India with great devotion and known with various names such as : 'Bhav-Bij' in Maharashtra, 'Bhai Phota' in West Bengal, 'Bhai Beej' in Gujarat. Bhatru Dwitiya, Bhai-Tika, Bhatri Ditya and Yamadwitheya are some other popular names for Bhai Dooj.
Significance of Bhai Dooj Festival
Like other festivals in India, Bhai Dooj is also an occasion for family get togethers, feasting and exchanging gifts. Bhai Dooj is also a celebration of sacred relationship between sisters and brothers. Although this festival is dedicated to the bond of care and affection between brother & sister but it goes way beyond it. Bhaiya Dooj signifies the peaceful co-existence of every individual, promotes the feeling of unity and encourage the harmonious social life.
Bhai Phota or Bhai Fota in West Bengal
In West Bengal, Bhai Duj festival is popularly known as Bhai Phota or Bhai Fota. Sisters' fast all morning till the ritual is completed. In Bhai Phota, the tilak applied on brother's forehead is made of ghee, sandalwood (chandan) paste and kaajal. The elder of the brother and sister gives the younger ones rice and durba, a type of grass. Rice is a symbol of plenty and the evergreen durba is symbolic of longevity. Kheer and coconut ladoos are a must-eat in Bhai Phota.
Bhai Tika or Bhai Tika in Nepal
Bhai Tika or Bhai Teeka is the popular name for Bhai Duj ceremony in Nepal. Some also know this festival as Bhai Tihar. This is because Tihar is the name for Diwali in Nepal and Bhai Tika falls on the fifth day of Diwali Festival. In Bhai Tika a special 'Paanch Rangi Tika' consisting of five colors (red, green, blue, yellow and white) is applied on brother's forehead. Here sister also draw mandaps in the name of the God using Doob grass and then carry out the Tika ceremony. The custom symbolizes that no one can even Lord Yama can cross the boundary guarded by a loving sister.
Bhatru Dwitiya or Bhatri Ditya
At several places Bhai Dooj is popularly known as Bhathru Dwithiya or Bhatri Ditya. Here 'Bhathru' or 'Bhatri' means brother while 'Dwithiya' or 'Ditya' symbolizes that Bhai Dooj is celebrated on the second day after the new moon. Brothers' visit their sisters' on this day to carry out the ceremony. A popular custom of the occasion is 'Bhagini Hastha Bhojanam'. This means that brothers' must partake food prepared by their sister.
Yamadwitheya
In some places in Northern India, Bhai dooj Festival is also known as Yamadwitheya. This name comes from the popular legend of Lord Yamaraj associated with the festival. Story goes that when Lord Yamaraj received tika from his sister Yami he was so much impressed with the affectionate gesture that he announced that brothers' who receives tika from their sister on the auspicious 'dooj' day will be blessed with a long life.
Bhav Bij / Bhaubeej in Maharashtra and Goa
Bhai Dooj Festival is popularly known as Bhav Bij or Bhaubeej amongst the Marathi speaking community in Maharashtra and Goa. Here sisters' draw a special square shaped space on the floor, but before allowing the brother to sit in this square he is made to eat a bitter fruit called Karith. The custom comes from the legend that says Lord Krishna tasted this fruit before he embarked on his mission to kill demon Narakasura. Highpoint of Bhaubeej celebrations is the delicious Basundi Poori or Shrikhand Poori.
Bhai Beej / Bhai Bij in Gujarat
In Gujarati language Bhai Dooj Festival is popularly known as Bhai Beej or Bhai Bij. Just as in Bhai Dooj celebrations in rest of India, sisters' apply sacred tika on brother's forehead, perform aarti of him and pray for his long life. Brothers' in turn bless their sisters and indulge them Bhai Beej gifts.
Bhai Dooj in Bihar
In Bihar, believe it or not, sisters' begin Bhai Dooj celebrations by heaping choicest of curses on their brothers! Having done that, they prick their own tongues as punishment, with a thorny, wild fruit and ask for their brothers' forgiveness for the curses, and also for past mistakes. Brothers' then bless their sisters and pray for their welfare. The brothers swallow a few grains of bajri with water, before tasting yummy sweets from their sisters' hands.