Who is Mr. Bean?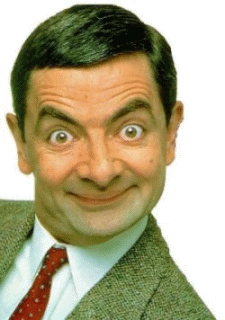 Mr. Bean is a British comedy television series of 14 half-hour episodes starring Rowan Atkinson as the eponymous title character. It was written by Rowan Atkinson, Robin Driscoll, Richard Curtis and Ben Elton. The self-titled first episode was broadcast on 1 January 1990, with the final episode, "Goodnight, Mr. Bean", on 31 October 1995. Rowan Atkinson was born on a farm in Durham on January 8th, 1956. He got his Electrical engineering degree on Oxford university. His comedy career started at the Edinburgh fringe. He was also a late member of "Monty Python". Rowan is a comedian in Blackadder and Mr. Bean. He has made an appearanced in a couple of big films (Four Weddings And A Funeral, The Lion King), but he got to play some serious parts in these movies which was a bit of a bummer, because his great sense of humour wasn't completely utilized.
The series followed the exploits of Mr. Bean, described by Atkinson as "a child in a grown man's body", in solving various problems presented by everyday tasks and often causing disruption in the process.
During its five-year run the series gained large UK audience figures, including 18.74 million for the 1992 episode "The Trouble With Mr Bean", and was the recipient of a number of international awards, including the Rose d'Or. The show has been sold in over 200 territories worldwide, and has inspired two feature films and an animated cartoon spin-off.
The title character, played by Atkinson, is a slow-witted, sometimes ingenious, and generally likeable buffoon who brings various unusual schemes and connivances to everyday tasks. He lives alone in his small flat in Highbury, North London, and is almost always seen in his trademark tweed jacket and skinny red tie. Mr. Bean rarely speaks, and when he does it is generally only a few mumbled words. His first name (he names himself "Bean" to others) and profession, if any, are never mentioned, though he has been shown in the first episode to have a strong knowledge of Trigonometry.