Anna Hazare - Biography & Facts About Anna Hazare
Anna Hazare is widely hailed today as the man who has moved an entire nation to register strong protest against corruption. His struggle in the lokpal agitation has brought several powerful and influential people to task. Anna Hazare is playing a very important role in cleaning up the corruption in Indian polity.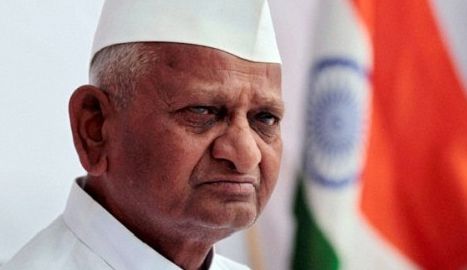 This biography gives the details of the life and struggle of this 73-year-old man who has caught the bull by the horn, literally! He has used peaceful tractics to shake all those who are ruling or planning to rule the nation. His thoughts are pure, so corruption does not stand a chance in front of him. The politicians and bureaucrats are afraid of this frail man who has opened a Pandora's box through his hunger strike.
Anna Hazare Biography
Kisan Bapat Baburao Hazare born on 15 January 1940, popularly recognized as Anna Hazare, is an Indian social activist who is particularly acknowledged for his contribution in order to the development of Ralegan Siddhi, a village in Ahmednagar district, Maharashtra, India and his efforts for establishing it as a model village, for which he was awarded the Padma Bhushan by Government of India, in 1992.
Anna Hazare is one of India's well-acclaimed social activists. He calls himself fakir, a man who has no family, no property, no bank balance, and wears only khadi. Anna Hazate starts an agitation; every leader from Mumbai to Delhi sits up and takes notice. His small frail body has taken several blows from the countless agitations, tours and hunger strikes he has undertaken since he came in public life in 1975. He fought to make Relegan Siddhi a model village; Right to Information (RTI) implemented; and now fighting for the implementation of the 'Jan Lokpal Bill'. Today, Anna Hazare is regarded as "The Gandhi of 21st century".
Anna has served as a soldier for 15 years in Indian Army. He enlisted after the 1962 Indo-China war when the government exhorted young men to join the Army. At times, Hazare used to be frustrated with life and wondered about the very existence of human life. His mind yearned to look out for a solution to this simple and basic question. His frustration reached the peak level and at one particular moment, he also contemplated suicide. He had also written a two page essay on why he wants to live no more. He was influenced in his search after accidently coming across a book by Swami Vivekananda at a New Delhi railway station. He was inspired by Vivekananda's photograph on the cover. As he started reading the book, he found answers to all his questions, he says. The book revealed to him that the ultimate motive of human life should be service to humanity. Striving for the betterment of common people is equivalent to offering a prayer to the God, he realized.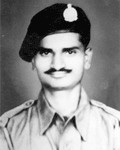 In 1978, he took voluntary retirement from the 9th Maratha Battalion (army service) and returned home to Ralegaon Siddhi, a village in Maharashtra's drought-prone Ahmadnagar. He was 39 years old at that time. A former soldier in the Indian army, Anna is well known and respected for upgrading the ecology and economy of the village of Ralegan Siddhi which is located in the drought prone Ahmednagar district of Maharashtra state. The erstwhile barren village has metamorphosed into a unique model of rural development due to its effective water conservation methods, which made the villagers self-sufficient. Earlier, the same village witnessed alcoholism, utter poverty and migration to urban slums. Inspired by Hazare's unique approach of salvaging a hopeless village, the state government has implemented the "Model Village" scheme as part of its official strategy. Hazare is now synonymous with rural development in India.
"The dream of India as a strong nation will not be realised without self-reliant, self-sufficient villages, this can be achieved only through social commitment & involvement of the common man. Building concrete jungles does not mean development as Gandhiji had rightly said. Surely, one needs to live for oneself and the family but simultaneously one owes something to your neighbour, your village and your nation too.", Anna Hazare.
Anti-corruption Movement
Indians have seen many revolutions some of which were respected the world over. This latest revolution would transform India; and the world shall bow before its amazing power and people, yet again. Corruption is the order of the day and Anna Hazare has picked up the broom to clean up this mess implementing Jan Lokpal Bill which is an anti-corruption bill. Anna Hazare is the face of India's fight against corruption. He has taken that fight to the corridors of power and challenged the government at the highest level. People, the common man and well-known personalities alike, are supporting him in the hundreds swelling to the thousands.
Anna Hazare, the 73-year-old activist is at the center of the standoff between India's government and civil society over the terms of an anti-corruption law, draws inspiration from a leading light of India's spiritual renaissance in the late 19th century, Swami Vivekananda.
Anna Hazare Facts
Here is a list of facts about the life and activities of Anna Hazare.
His actual name is Kisan Bapat Baburao Hazare, popularly known as Anna Hazare.
His birth date is 15 January 1940.
He is unmarried.
He was born in Bhingar village in Ahmednagar district of Maharashtra state in western India to Baburao Hazare and Laxmi Bai, an unskilled labourer family.
He was raised by his childless aunt in Mumbai but could not continue beyond 7th standard and had to quit midway due to problems.
He has two sisters.
His organization - the Bhrashtachar Virodhi Jan Andolan (People's movement against Corruption).
His tool of protest - hunger strikes.
His prime target - politicians.
Anna Hazare started his career as a driver in the Indian Army in 1963 heeding patriotic calls by the government after Indian forces were defeated in a border war with China.
In the year 1965, Pakistan attacked India and at that time, Hazare was posted at the Khemkaran border. On November 12, 1965, Pakistan launched air attacks on Indian base and all of Hazare's comrades became martyrs.
During the mid-1970s he was involved in a road accident while driving.
In 1978, he took voluntary retirement from the 9th Maratha Battalion.
During his 15-year tenure as a soldier, he was posted to several states like Sikkim, Bhutan, Jammu-Kashmir, Assam, Mizoram, Leh and Ladakh and braved challenging weathers.
He gained wide acclaim in his home state and at the national level for transforming his once drought-prone, impoverished village to a prosperous model village by encouraging sustainable farming and rural life as envisioned by Mahatma Gandhi.
Government has awarded Mr. Hazare with the Padma Bhushan and Padma Shri awards, the nation's third and fourth highest civilian awards respectively, for his social work.
Mr. Hazare lives on his pension from army service in a room in the temple in his village and says his campaigns are financed by voluntary donations by his supporters.
He is always seen in white clothes with a traditional Indian cap (Gandhi Topi).
Anna Hazare never got any grant from Government of India.
Anna Hazare has given his life for the benefit of India.
He got the home in his village but he has not entered in that house from last 35 years.
In 1995-96, he forced the Sena-BJP government in Maharashtra to drop two corrupt Cabinet Ministers.
In 2003, he forced the Congress-Nationalist Congress Party (NCP) state government to set up an investigation against four ministers.
In April 2011, four days of fasting brought thousands of people out in support of his crusade against corruption. They also made the government realise it could not be dismissive about Anna Hazare and his mass appeal.
He fought from the front to have Right to Information (RTI) implemented.
Mr. Hazare is leading the anti-corruption movement that demands establishment of a stronger ombudsman than envisioned by the government.
He is fighting for the implementation of the Jan Lokpal Bill, the anti-corruption bill drafted by his team of crusaders.
He has termed the current civil society's movement against corruption as "India's second freedom struggle," and has asked all Indians to participate.
Various Awards Won By Anna Hazare
Anna Hazare has won the following awards:
Indira Priyadarshini Vrikshamitra award by the Government of India on November 19, 1986 from the hands of Prime Minister of India Rajiv Gandhi.
Krishi Bhushana award by the Government of Maharashtra in 1989.
Padmashri award, by the Government of India in 1990.
Padmabhushan award, by the Government of India in 1992.
On April 15 2008, Anna Hazare received the World Bank's 2008 Jit Gill Memorial Award for Outstanding Public Service.
Care International of the USA, Transparency International, Seoul (South Korea).
He received awards worth Rs 25 lakh and donated the entire amount for the Swami Vivekananda Kritadnyata Nidhi (social gratitude fund). Out of the two lakh rupees received from the above amount, mass marriages are carried of at least 25-30 poor couples every year.