Nokia N75 Mobile Phone - Pictures, Reviews & Specifications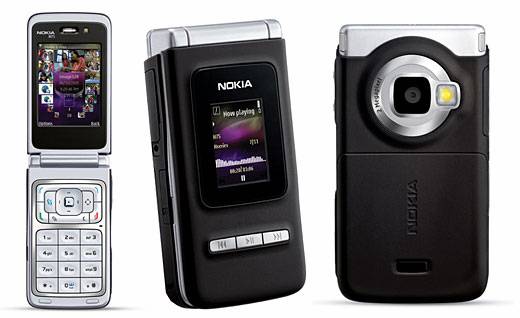 Nokia has introduced the Nokia N75, its smallest multimedia computer, offering digital music playback, quality photography, telephony and rich internet communication. The Nokia N75 provides a complete multimedia experience in a thin and elegant clamshell, while utilizing Nokia's renowned ease of use.
"By combining people's entertainment and leisure needs into the Nokia N75, Nokia is affecting the lifestyles of mobile device users in a positive way. With all its features and beautiful design, the Nokia N75 keeps your life connected and it's far easier and more enjoyable to just have one device to carry around, and still keep ahead of the game!" said Nigel Rundstrom, vice president of Multimedia Sales for Nokia in North America.
The Nokia N75 music experience excels even with the device closed. The digital music player has easy controls on the cover of the device, and the reflective 1.36" color cover display guides you to your music, which is always just a button press away. Supporting a multitude of different formats, including MP3, M4A, AAC, eAAC+ and WMA, the advanced digital music player includes an equalizer, playlist, shuffle and repeat features for a direct connection to compatible online music services. When you connect the Nokia N75 to your compatible PC, a mere tap on the music key acts as an instant link to music stored. The PC-mobile synchronization redirects your favorite tunes straight to the Nokia N75, which can store up to 1,500 individual tracks on an optional 2GB microSD card. In addition to playing downloaded music and ripped cds, the Nokia N75 also includes a stereo FM radio, allowing you to listen to your favorite talk or music radio stations through your compatible headphones or through the integrated 3D stereo speakers.
The highly intuitive Nokia Web Browser with Mini Map delivers desired Web pages with their original design directly to the high-resolution color display (320 x 240 pixels, up to 16 million colors). Furthermore, the browser enables RSS feeds, so users can subscribe to their favorite Web sites and receive regular updates. Keeping in touch with friends is just as easy as from your home computer, but the Nokia N75 is always with you - just follow simple set up prompts to access an existing compatible email account or standard SMS and MMS features. Part of the Nokia Nseries multimedia computers, the Nokia N75 offers great functionality in one beautifully shaped connected device. Designed to work on 3G (WCDMA 850/1900 MHz), EDGE and GSM (850/900/1800/1900 MHz) networks, the Nokia N75 provides a fantastic Web browsing experience.
The N75 is only the second straight clamshell N-Series handset and is the first N-Series handset directly targeted at the US market.
Features of the Nokia N75 include
Quad-band GSM + EDGE + WCDMA 850/1900

QVGA screen with 16m colors

2-megapixel camera

microSD card slot

FM radio

Stereo speakers

Music player with support for MP3, M4A, AAC, eAAC+ and WMA