Atal Bihari Vajpayee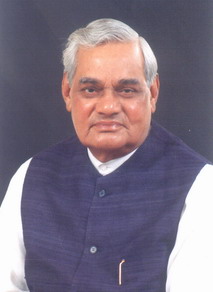 Shri Atal Bihari Vajpayee was Prime Minister of India from May 16-31, 1996, and a second time from March 19, 1998, to May 13, 2004. With his swearing-in as Prime Minister, he has been the only Prime Minister since Jawaharlal Nehru to occupy the office of the Prime Minister of India through three successive mandates. Shri Vajpayee has also been the first Prime Minister since Smt. Indira Gandhi led his party to victory in successive elections.
Born on December 25, 1924, at Gwalior, Madhya Pradesh to Shri Krishna Bihari Vajpayee and Smt. Krishna Devi, Shri Vajpayee brings with him a long parliamentary experience spanning over four decades. He has been a Member of Parliament since 1957. He was elected to the 5th, 6th, and 7th Lok Sabha and again to the 10th, 11th 12th, and 13th Lok Sabha and to Rajya Sabha in 1962 and 1986. He has again been elected to Parliament from Lucknow in Uttar Pradesh for the fifth time consecutively. He is the only parliamentarian elected from four different States at different times namely - UP, Gujarat, MP, and Delhi.
Atal Bihari Vajpayee - Profile
| | |
| --- | --- |
| Father's Name | Shri Krishna Bihari Vajpayee |
| Date of Birth | 25 December 1924 |
| Place of Birth | Gwalior (Madhya Pradesh) |
| Marital Status | Unmarried |
| Educational Qualifications | M.A. (Political Science) |
| Educated at | Victoria (now Laxmibai) College, Gwalior (Madhya Pradesh) and D.A.V. College, Kanpur (Uttar Pradesh) |
| Profession | Journalist and Social Worker |
| Permanent Address | A-302, Laplaz, Lucknow (Uttar Pradesh) |
| Present Address | 6-A, Krishna Menon Marg, New Delhi-110011 |
Atal Bihari Vajpayee - Political Career
Elected leader of the National Democratic Alliance, which is a pre-election coming together of political parties from different regions of the country and which enjoyed a comfortable backing and support of the elected Members of the 13th Lok Sabha, Shri Vajpayee was earlier elected leader of his own Bharatiya Janata Party (BJP) parliamentary party which has also again emerged as the single largest party in the 13th Lok Sabha as was the case in the 12th Lok Sabha.
Educated at Victoria (now Laxmi Bai) College, Gwalior and DAV College, Kanpur, Uttar Pradesh, Shri Vajpayee holds an M.A (Political Science) degree and has many literary, artistic, and scientific accomplishments to his credit. He edited Rashtradharma (a Hindi monthly), Panchjanya (a Hindi weekly), and the dailies Swadesh and Veer Arjun. His published works include "Meri Sansadiya Yatra" (in four volumes), "Meri Ikkyavan Kavitayen", "Sankalp Kaal", "Shakti-se-Shanti", "Four Decades in Parliament" (speeches in three volumes), 1957-95, "Lok Sabha mein Atalji" (a collection of speeches); Mrityu Ya Hatya", "Amar Balidan", "Kaidi Kaviraj Ki Kundalian" (a collection of poems written in jail during Emergency); "New Dimensions of India's Foreign Policy" (a collection of speeches delivered as External Affairs Minister during 1977-79); "Jan Sangh Aur Mussalman"; "Sansad Mein Teen Dashak" (Hindi) (speeches in Parliament - 1957-1992 - three volumes; and "Amar Aag Hai" (a collection of poems) 1994.
Shri Vajpayee has participated in various social and cultural activities. He has been a Member of the National Integration Council since 1961. Some of his other associations include - (i) President, All India Station Masters and Assistant Station Masters Association (1965-70); (ii) Pandit Deendayal Upadhyay Smarak Samiti (1968-84); (iii) Deen Dayal Dham, Farah, Mathura, U.P; and (iv) Janmabhomi Smarak Samiti, 1969 onwards.
Founder-member of the erstwhile Jana Sangh (1951), President, Bharatiya Jana Sangh (1968-1973), leader of the Jana Sangh parliamentary party (1955-1977), and a founder-member of the Janata Party (1977-1980), Shri Vajpayee was President, BJP (1980-1986) and the leader of BJP parliamentary party during 1980-1984, 1986 and 1993-1996. He was the Leader of the Opposition throughout the term of the 11th Lok Sabha. Earlier, he was India's External Affairs Minister in the Morarji Desai Government from March 24, 1977, to July 28, 1979.
Widely respected within the country and abroad as a statesman of the genre of Pt. Jawaharlal Nehru, Shri Vajpayee's 1998-99 stint as Prime Minister has been characterized as 'one year of courage of conviction'. It was during this period that India entered a select group of nations following a series of successful nuclear tests at Pokharan in May 1998. The bus journey to Pakistan in February 1999 was widely acclaimed for starting a new era of negotiations to resolve the outstanding problems of the sub-continent. India's honesty made an impact on the world community. Later, when this gesture of friendship turned out to be a betrayal of faith in Kargil, Shri Vajpayee was also hailed for his successful handling of the situation in repulsing back the intruders from Indian soil. It was during Shri Vajpayee's 1998-99 tenure that despite a global recession, India achieved 5.8 percent GDP growth, which was higher than the previous year. Higher agricultural production and an increase in foreign exchange reserves during this period were indicative of a forward-looking economy responding to the needs of the people. "We must grow faster. We simply have no other alternative" has been Shri Vajpayee's slogan focusing particularly on the economic empowerment of the rural poor. The bold decisions are taken by his Government for strengthening the rural economy, building a strong infrastructure, and revitalizing the human development programs, fully demonstrated his Government's commitment to a strong and self-reliant nation to meet the challenges of the next millennium to make India an economic power in the 21st century. Speaking from the ramparts of the Red Fort on the occasion of 52nd Independence Day, he had said, "I have a vision of India: an India free of hunger and fear, an India free of illiteracy and want."
Shri Vajpayee has served on a number of important Committees of Parliament. He was Chairman, Committee on Government Assurances (1966-67); Chairman, Public Accounts Committee (1967-70); Member, General Purposes Committee (1986); Member, House Committee and Member, Business Advisory Committee, Rajya Sabha (1988-90); Chairman, Committee on Petitions, Rajya Sabha (1990-91); Chairman, Public Accounts Committee, Lok Sabha (1991-93); Chairman, Standing Committee on External Affairs (1993-96).
Shri Vajpayee participated in the freedom struggle and went to jail in 1942. He was detained during the Emergency in 1975-77.
Widely traveled, Shri Vajpayee has been taking a keen interest in international affairs, upliftment of Scheduled Castes and Scheduled Tribes, women, and child welfare. Some of his travels abroad include visits such as - Member, Parliamentary Goodwill Mission to East Africa, 1965; Parliamentary Delegation to Australia, 1967; European Parliament, 1983; Canada, 1987; Indian delegation to Commonwealth Parliamentary Association meetings held in Canada, 1966 and 1994, Zambia, 1980, Isle of Man 1984, Indian delegation to Inter-Parliamentary Union Conference, Japan, 1974; Sri Lanka, 1975; Switzerland, 1984; Indian Delegation to the UN General Assembly, 1988, 1990, 1991, 1992, 1993 and 1994; Leader, Indian Delegation to the Human Rights Commission Conference, Geneva, 1993.
Atal Bihari Vajpayee - Awards & Recognitions
Shri Vajpayee was conferred Padma Vibhushan in 1992 in recognition of his services to the nation. He was also conferred the Lokmanya Tilak Puruskar and the Bharat Ratna Pt. Govind Ballabh Pant Award for the Best Parliamentarian, both in 1994. Earlier, Kanpur University honored him with an Honorary Doctorate of Philosophy in 1993.
Well known and respected for his love for poetry and as an eloquent speaker, Shri Vajpayee is known to be a voracious reader. He is fond of Indian music and dance.