List of National Parks of India
National parks in India are IUCN category II protected areas. India is a vast South Asian country with diverse terrain from Himalayan peaks to Indian Ocean coastline. How many national parks are there in India? This question is commonly asked in quiz competitions. For your general knowledge, the total number of national parks in India is 103. In 1936, the first National Park in India was created and named as the Hailey National Park, now called the Corbett National Park, in Uttaranchal.
List of National Parks in India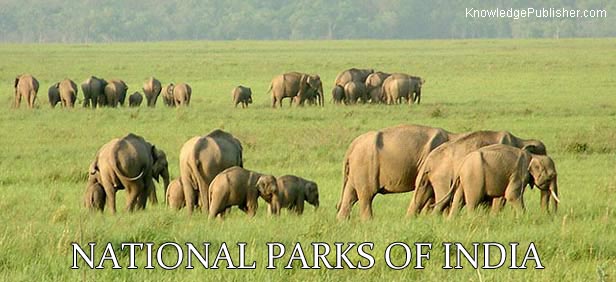 Get the list and detail information on National Parks in India given below. Few famous national parks of them are Great Himalayan, Gir, Kanha and Kaziranga National Park. Apart from the above there are many more superb wild animals parks,which also offers a wide variety of wild animals, reptiles and birds in India.
Anshi National Park in Karnataka
Bandipur National Park in Karnataka
Bannerghatta National Park in Karnataka
Balphakram National Park in Meghalaya
Bandhavgarh National Park in Madhya Pradesh
Betla National Park in Jharkhand
Bhitarkanika National Park in Odisha
Blackbuck National Park, Velavadar in Gujarat
Buxa Tiger Reserve in West Bengal
Campbell Bay National Park in Andaman and Nicobar Islands
Chandoli National Park in Maharashtra
Dachigam National Park in Jammu and Kashmir
Darrah National Park in Rajasthan
Desert National Park in Rajasthan
Dibru-Saikhowa National Park in Assam
Dudhwa National Park in Uttar Pradesh
Eravikulam National Park in Kerala
Galathea National Park in Andaman and Nicobar Islands
Gangotri National Park in Uttarakhand
Gir Forest National Park in Gujarat
Gorumara National Park in West Bengal
Govind Pashu Vihar Wildlife Sanctuary in Uttarakhand
Great Himalayan National Park in Himachal Pradesh,
Gugamal National Park in Maharashtra
Guindy National Park in Tamil Nadu
Gulf of Mannar Marine National Park in Tamil Nadu
Hemis National Park in Jammu and Kashmir
Harike Wetland in Punjab
Hazaribagh National Park in Jharkhand
Indira Gandhi Wildlife Sanctuary and National Park in Tamil Nadu
Indravati National Park in Chhattisgarh
Jaldapara National Park in West Bengal
Jim Corbett National Park in Uttarakhand
Kalesar National Park in Haryana
Kanha National Park in Madhya Pradesh
Kanger Ghati National Park in Chhattisgarh
Kasu Brahmananda Reddy National Park in Telangana
Kaziranga National Park in Assam
Keibul Lamjao National Park in Manipur
Keoladeo National Park in Rajasthan
Khangchendzonga National Park in Sikkim
Kishtwar National Park in Jammu and Kashmir
Kudremukh National Park in Karnataka
Madhav National Park in Madhya Pradesh
Mahatma Gandhi Marine National Park in Andaman and Nicobar Islands
Mahavir Harina Vanasthali National Park in Telangana
Manas National Park in Assam
Mandla Plant Fossils National Park in Madhya Pradesh
Marine National Park, Gulf of Kutch in Gujarat
Mathikettan Shola National Park in Kerala
State-wise list of National Parks in India
| | | |
| --- | --- | --- |
| State / UT | National Park | Established |
| Andaman and Nicobar | Campbell Bay National Park | 1992 |
| Andaman and Nicobar | Galathea National Park | 1992 |
| Andaman and Nicobar | Mahatma Gandhi Marine National Park (Wandur National Park) | 1983 |
| Andaman and Nicobar | Middle Button Island National Park | 1987 |
| Andaman and Nicobar | Mount Harriet National Park | 1987 |
| Andaman and Nicobar | North Button Island National Park | 1987 |
| Andaman and Nicobar | Rani Jhansi Marine National Park | 1996 |
| Andaman and Nicobar | Saddle Peak National Park | 1987 |
| Andaman and Nicobar | South Button Island National Park | 1987 |
| Andhra Pradesh | Kasu Brahmananda Reddy National Park | 1994 |
| Andhra Pradesh | Mahavir Harina Vanasthali National Park | 1994 |
| Andhra Pradesh | Mrugavani National Park | 1994 |
| Andhra Pradesh | Sri Venkateswara National Park | 1989 |
| Arunachal Pradesh | Mouling National Park | 1986 |
| Arunachal Pradesh | Namdapha National Park | 1983 |
| Assam | Dibru-Saikhowa National Park | 1999 |
| Assam | Kaziranga National Park | 1974 |
| Assam | Manas National Park | 1990 |
| Assam | Nameri National Park | 1998 |
| Assam | Orang National Park | 1999 |
| Bihar | Valmiki National Park | 1989 |
| Bihar | Kanwar Lake Bird Sanctuary | 1987 |
| Bihar | Vikramshila Gangetic Dolphin Sanctuary | 2009 |
| Chhattisgarh | Indravati National Park | 1981 |
| Chhattisgarh | Kanger Ghati National Park(Kanger Valley) | 1982 |
| Chhattisgarh | Sanjay National Park | 1981 |
| Goa | Mollem National Park | 1978 |
| Gujarat | Vansda National Park | 1979 |
| Gujarat | Blackbuck National Park, Velavadar | 1976 |
| Gujarat | Gir National Park | 1965 |
| Gujarat | Gulf of Kachchh Marine National Park | 1980 |
| Haryana | Kalesar National Park | 2003 |
| Haryana | Sultanpur National Park | 1989 |
| Himachal Pradesh | Great Himalayan National Park | 1984 |
| Himachal Pradesh | Pin Valley National Park | 1987 |
| Jammu and Kashmir | Dachigam National Park | 1981 |
| Jammu and Kashmir | Hemis National Park | 1981 |
| Jammu and Kashmir | Kishtwar National Park | 1981 |
| Jammu and Kashmir | Salim Ali National Park | 1992 |
| Jharkhand | Betla National Park | 1986 |
| Jharkhand | Hazaribag National Park | 1954 |
| Jharkhand | Dimna National Park | 1975 |
| Karnataka | Anshi National Park | 1987 |
| Karnataka | Bandipur National Park | 1974 |
| Karnataka | Bannerghatta National Park | 1974 |
| Karnataka | Kudremukh National Park | 1987 |
| Karnataka | Rajiv Gandhi National Park(prev: Nagarhole National Park) | 1988 |
| Kerala | Eravikulam National Park | 1978 |
| Kerala | Mathikettan Shola National Park | 2003 |
| Kerala | Periyar National Park | 1982 |
| Kerala | Silent Valley National Park | 1984 |
| Madhya Pradesh | Bandhavgarh National Park | 1982 |
| Madhya Pradesh | Fossil National Park | 1983 |
| Madhya Pradesh | Kanha National Park | 1955 |
| Madhya Pradesh | Madhav National Park | 1959 |
| Madhya Pradesh | Panna National Park | 1973 |
| Madhya Pradesh | Pench National Park, Madhya Pradesh | 1975 |
| Madhya Pradesh | Sanjay National Park | 1981 |
| Madhya Pradesh | Satpura National Park | 1981 |
| Madhya Pradesh | Van Vihar National Park | 1979 |
| Maharashtra | Chandoli National Park | 2004 |
| Maharashtra | Gugamal National Park | 1987 |
| Maharashtra | Navegaon National Park | 1975 |
| Maharashtra | Pench National Park | 1975 |
| Maharashtra | Sanjay Gandhi National Parka.k.a. Borivili National Park, Mumbai | 1983 |
| Maharashtra | Tadoba National Park | 1955 |
| Manipur | Keibul Lamjao National Park | 1977 |
| Manipur | Sirohi National Park | 1982 |
| Meghalaya | Balphakram National Park | 1986 |
| Meghalaya | Nokrek National Park | 1986 |
| Mizoram | Murlen National Park | 1991 |
| Mizoram | Phawngpui Blue Mountain National Park | 1997 |
| Nagaland | Ntangki National Park | 1993 |
| Orissa | Bhitarkanika National Park | 1988 |
| Orissa | Nandankanan National Park | 1976 |
| Orissa | Simlipal National Park | 1980 |
| Punjab | Harike Wetland | 1987 |
| Rajasthan | Darrah National Park | 2004 |
| Rajasthan | Desert National Park | 1980 |
| Rajasthan | Keoladeo National Park | 1981 |
| Rajasthan | Mount Abu Wildlife Sanctuary | 1960 |
| Rajasthan | Ranthambore National Park | 1980 |
| Rajasthan | Sariska National Park | 1982 |
| Sikkim | Khangchendzonga National Park | 1977 |
| Tamil Nadu | Guindy National Park | 1976 |
| Tamil Nadu | Gulf of Mannar Marine National Park | 1980 |
| Tamil Nadu | Indira Gandhi National Park(prev: Annamalai National Park) | 1989 |
| Tamil Nadu | Mudumalai National Park | 1990 |
| Tamil Nadu | Mukurthi National Park | 1990 |
| Tamil Nadu | Palani Hills National Park | Proposed |
| Uttar Pradesh | Dudhwa National Park | 1977 |
| Uttarakhand | Corbett National Park | 1936 |
| Uttarakhand | Gangotri National Park | 1989 |
| Uttarakhand | Govind Pashu Vihar | 1990 |
| Uttarakhand | Nanda Devi National Park | 1982 |
| Uttarakhand | Rajaji National Park | 1983 |
| Uttarakhand | Valley of Flowers National Park | 1982 |
| West Bengal | Buxa Tiger Reserve | 1992 |
| West Bengal | Gorumara National Park | 1994 |
| West Bengal | Neora Valley National Park | 1986 |
| West Bengal | Singalila National Park | 1992 |
| West Bengal | Sundarbans National Park | 1984 |