India Post Quiz Questions with Answers - General Knowledge Test
Philately Quiz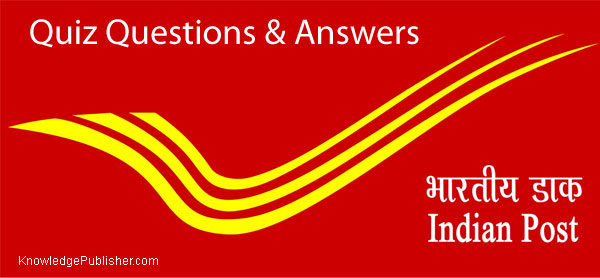 When was the first all-India postage stamp issued?
Where was India's First General Post Office or GPO established?
How many General Post offices or GPOs are there in a Postal Circle?
Where is the World's Highest Post office located?
Under which Ministry of Government of India does the Department of Post come?
How many Post Offices are there in the country?

25,000
75,000
150,000

Where is the first Indian Post office outside the Indian Territory located?
Who is the first Indian king to be depicted on an Indian stamp?
When was Postal Index Number PIN introduced in India?
If any PIN starts with 9, what does it signify?
When was the Postal Life Insurance (PLI) established in India?
When was the Post Office Saving Bank (POSB) started in India?
What was the minimum amount required to open a Post Office Savings Bank Account?
When was the money order service started in India?
What was the Postal service operated by the Travancore State called?
What does happen to the letter that cannot be delivered or returned to the sender?
Can you stop the delivery of a letter you have posted?
When was the mail order service started in India?
What happens to a letter posted without postage?
What is Poste Restante?
India Post Quiz Answers
In 1854
Kolkata
There can be only one GPO in a Postal Circle.
Hikkim in Himachal Pradesh (150,000 feet)
The Ministry of Communication & Information Technology
More than 150,000
At the Dakshin Gangotri in Antarctica in 1883
Chandra Gupta Maurya
1972
All PINs starting with 9 are meant for the Army Post Office.
1884
1882
The minimum amount required to open a Post Office Savings Bank is Rs 50.
1880
Anchal
It is sent to Returned Letter Office (RLO)
Yes, under a service called Recall of Postal Article
Mail-order services were started with the value payable system introduced in 1877
A letter that is posted without postage is charged for double the deficiency which will be collected from the addressee who has the option to refuse. If so it will be collected from the sender compulsorily (of course provided the sender can be traced).
All articles superscribed C/O Postmaster or in any other similar way are called Poste Restante articles. A Poste Restante article has to be collected by the addressee from the Post Office. It is intended to cater to the postal communication needs of travelers.