Samsung Star Mobile with WiFi - Samsung Star WiFi Overview
Samsung Star WiFi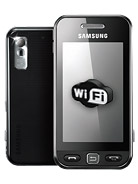 Samsung Electronics has announced the release of Samsung S5230W, a WiFi version of their popular Star Mobile Phone. Samsung surely haven't gone out of their way to popularize that one, but we just stumbled on some pretty interesting version of the highly popular Samsung Star - one with Wi-Fi, which is quite naturally called Samsung S5230W Star WiFi. The "Star with WiFi" will hit the markets in Africa and Asia as well but under a slightly different model number - the Samsung S5233W - nevertheless it's still the same full touch screen Samsung Star phone.
Samsung have already sold the original Star in more than 5 million units, so this is an attempt to boost the sales even further. Except for the Wi-Fi, the rest of the specifications of S5230W remain the same as the original Star - even the dimensions and weight are the same. The new S5230W Star WiFi is already on sale in some retail sites and it runs around 250 US dollars, which is only a tad higher than the unsubsidized price of the original Star. The Samsung Star WiFi will be available in black, silver, pink and white colors.
Samsung Star WiFi Specifications
Full Touch UI
• TouchWiz UI offers more versatile, intuitive and easy-to-use navigation.
• Large 3.0"LCD with 262K Colour WQVGA showcases brilliance and an optimized view.
• 16:9 LCD supports hyper QWERTY keypad for upgraded ease of input.
• Haptic offers tangible feedback when using the touch screen.
• Auto rotating display easily switches back and forth to optimize viewing of large content.
Wi-Fi
• Wi-Fi access lets you stay connected at Internet hotspots for more frequent on-the-go high speed browsing.
• Wi-Fi 802.11 b/g delivers fast, far reaching connectivity.
Design
• Compact size is palm-friendly.
• Sleek squared shape with chic black colour completes touch style.
Mobile Widgets
• Mobile widgets customize screen with embedded widgets such as clock, scheduler, and other useful applications.
• Online widgets connect you to useful info including stock updates, weather forecast, latest news, etc.
Enhanced Camera Features
• 3.2 Megapixel Camera takes high quality photographs on the go.
• Smile Shot only takes a photo when the subject is smiling, helping you capture even the most elusive smilers.
• Camera-like touch user interface makes mobile photography a breeze.
• Organize your pics in an easy-to-browse photo album.
• Edit photos right on your mobile, no PC needed.
Music
• MP3 Player plays multi-format music files (MP3/AAC/AAC+/e-AAC+/WMA/WAV).
• DNSe enhances acoustics including a virtual 3D sound effect and an equalizer.
• Music Recognition identifies songs for you; just record a clip of the song (just a few seconds is enough) on your phone, send it to the server, and the song will be identified within seconds.
• Music Library is easy to organize and manage.
• Background Music lets you keep listening while you access other applications.
• FM Radio with RDS lets you tune into 24-hour music and information.
Internet
• Full HTML browser support lets you surf the web from anywhere.
• Both vertical and horizontal views offer optimum viewing (auto rotates when you move the unit).
• Easy access to Google Mail, Google Search and Google Maps.
• RSS Reader automatically streams news and entertainment directly to your mobile.
• Update your blogs via the phone, no PC needed.