Samsung Galaxy S3 Specifications Leaked - Samsung Galaxy S3 Design
Some leaked details of Samsung's another flagship smartphone "Samsung Galaxy S3" have hit the Internet. A leaked screengrab has emerged showing what appears to be the Samsung Galaxy S3. Phandroid has posted a screenshot of what are being rumoured to be the specs of the Galaxy S III, the unannounced successor to the popular Samsung Galaxy S II. After the huge success of Samsung Galaxy S2, it seems likely the company would cash in on with a sequel, the Samsung Galaxy S3.
Samsung Galaxy S3 Specifications
According to the leaked specifications, the Samsung Galaxy S3 will come with a Dual-Core 1.8GHz Exynos 4212 processor along with 2GB of RAM. The smartphone will feature a 4.6-inch Super AMOLED Plus HD display, which is likely to deliver HD resolution without the PenTile technology, available in the present Samsung displays.
Moreover, the Samsung Galaxy S3 will have a 12MP camera, powered by a W750 BSI CMOS sensor for image control. The new Samsung Smartphone will apparently also feature LTE, NFC support and unlike the forthcoming Nexus Prime, the Galaxy S3 will have a flat display. The rumour mill states the Samsung Galaxy S3 will also have a thinner body than the S2, and should quite obviously run on "Android Ice Cream Sandwich". Phandroid, points out that the information on the Samsung Galaxy S3 is unconfirmed at this time.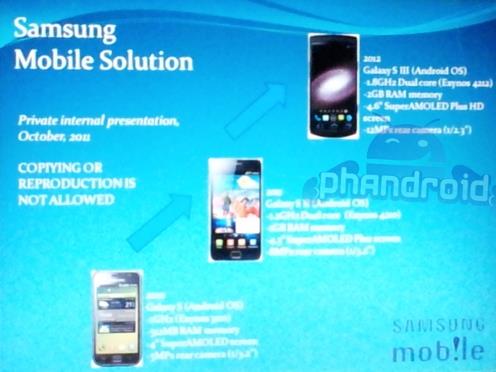 The above photo is allegedly of an internal Samsung slide and details the progression of the Galaxy S3 line. Sent to Phandroid earlier this week, the slide includes details of a Galaxy S III device. If the information is legitimate (and could well be a fake, since there's a few mistakes in the image), this new Android device will boast a 1.8GHz dual-core Exynos 4212 processor, 2GB of RAM, a 12MP camera, and a 4.6-inch Super AMOLED Plus HD display. The phone is said to be even slimmer than the Galaxy S2, support 4G LTE and NFC.
Considering the monster specs the Nexus Prime is rumored to have, these specs for the Galaxy S3 don't seem at all impossible.