Nokia N95 Review - 5 Megapixel Camera Phone with GPS and WiFi
The Nokia N95 brings a range of multimedia ingredients together, such as a fantastic display, outstanding photo and video capability and high-speed connectivity, making it the ultimate multimedia computer," said Anssi Vanjoki, Executive Vice President, Multimedia, Nokia. "This single device - which fits easily in your pocket - can replace stand-alone devices that you no longer need, whether it's your music player, your digital camera, PDA or navigation device. Most importantly, the Nokia N95 is with you and connected when you want to use it. N95 boasts a 5-megapixel camera that can also record VGA-quality video, a robust media player with a 3.5mm headphone jack, a dual-slider design, and integrated GPS, Wi-Fi, and Bluetooth. Not to mention, it's a Symbian smart phone as well.
Nokia N95 Mobile Phone Review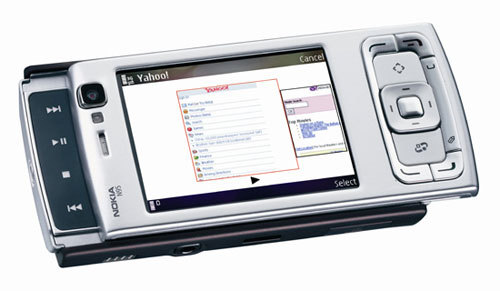 Design of Nokia N95
Considering all the features that are packed into the Nokia N95, you'd think it would be a pretty hefty phone, but not so, my friends. The N95 measures a compact 3.8 inches long by 2.1 inches wide by 0.8 inch thick and weighs only 4.2 ounces. It feels comfortable to hold, and the soft-touch finish on the back of the device makes it easier to grip. That said, we couldn't help but think that the phone felt, well, kind of cheap. In particular, the front cover felt plasticky and rickety (more on this below). From an aesthetic standpoint, the N95 certainly falls more into the short and stocky category rather than svelte and sexy, but we think it's still a good-looking phone with its plum-and-silver color scheme.
Of course, another attraction of the N95 is its innovative two-way slider design. Not only can you slide the front cover up to reveal the alphanumeric keypad, you can also slide it down to expose the media player controls. The dual functionality is nice, but we had a couple of concerns. First, the cover, which houses the screen and navigation buttons, felt loose and rattled around a bit. It just didn't feel like it was securely locked into place, thus leading to our next complaint. When putting the phone into a pants pocket or even when thrown into a bag, it was too easy to slide open the phone. There is a keypad lock, but we would prefer that the N95 just had a stronger mechanism for locking the position of the front flap.
Moving onto the display, the Nokia N95 features a gorgeous 2.6-inch QVGA TFT screen with a 16 million-color output and 320x240 pixel resolution. Be aware, however, that it isn't a touch screen. Images and text looked great, with deep color saturation and sharp definition. You can change the theme of the home screen, backlighting time, and font size. There's also an ambient light detector to adjust the backlighting depending on your environment, which helped keep the display readable in various lighting conditions. However, we noticed the N95's screen had a nasty habit of holding fingerprints and smudges, so keep some kind of wipe cloth close by. We should also note that when you slide open the phone to access the media player controls, the screen automatically switches to Landscape mode but once you close the phone, it doesn't automatically switch back. You have to open the dial pad to get back to portrait mode, which is annoying.
The alphanumeric keypad is spacious. Beneath the display are the N95's navigation controls, which consist of two soft keys, the Talk and End buttons, shortcuts to the main menu and the multimedia menu, a Clear key, an Edit key that lets you choose the text input type, and a four-way toggle with a center select button. For the most part, the controls are easy to use, though they're a bit slick and the toggle and outer ring of buttons (see image above) could have been bigger. Still, it's an improvement over the Nokia E65's miniscule keys. The N95's numeric keypad features large, tactile buttons with bright backlighting, and they're raised above the phone's surface so it's easier to dial by feel. Unfortunately, the media player controls are less tactile and require a bit more pressure to register the command.
Since the N95 is a multimedia-centric device, Nokia smartly equipped the phone with a 3.5mm headset jack so you can plug in your favorite pair of ear buds or headphones for a better listening experience. It's located on the left side, in addition to an infrared port and the microSD expansion slot. On the right side, you will find the volume rocker, a shortcut to your photo gallery, and the camera activation button. The latter is in a position so that when you're holding the phone horizontally, it actually mimics the look and feel of a digital camera. The N95's camera lens itself (and flash) is located on the back and is guarded by a protective cover. Finally, there's a power connector and mini USB port on the bottom, and the power button on top of the handset. Thankfully, Nokia put the microSD slot on the left spine of the N95 instead of behind the battery cover.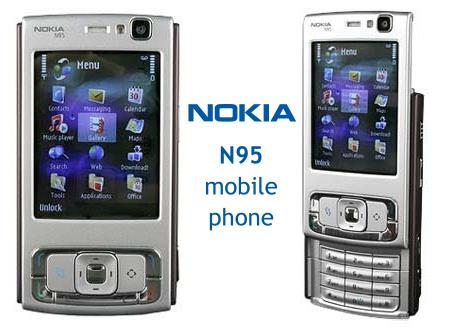 Nokia N95 Features
It's hard to decide where to begin with the feature-packed Nokia N95, but since imaging is one of its biggest draws, we'll start there. The N95 is equipped with an impressive 5-megapixel camera - unheard of in the cell phone and smart phone world - with a Carl Zeiss Vario-Tessar lens. (Carl Zeiss was an optician who first started manufacturing lenses for microscopes and then used his expertise for camera lenses.) The breadth of customization and editing options available on this phone is astounding - almost like an actual digital camera. You can choose from seven shooting modes, ranging from close-up to sports to night portrait, and five quality settings. You can adjust the brightness, contrast, white balance, color tone, ISO light sensitivity, and exposure value to get the best picture possible. The flash even has a red-eye reduction option. Plus, there's also a self-timer and a sequence mode for multiple shots.
The Nokia N95 is equipped with an impressive 5-megapixel camera with Carl Zeiss lens and flash.
On top of all that, Nokia has also packed a GPS receiver into the N95, along with a mapping application. With it, you can get color maps, route planning, and a healthy points of interest database. There's also a trip computer that shows you information about the total distance, time, average speed, and so forth. However, to get any kind of turn-by-turn directions, you'll have to download an upgrade to the device. The N95's GPS performance was satisfactory, although it took quite a while for the unit to get a satellite fix. Once connected though, it did a good job of tracking our position and gave accurate route calculations.
The Nokia N95 has a 3.5mm headset jack that accepts Walkman-style headphones for a better listening experience.
The N95 can record video at a maximum VGA resolution (640x480) at 30 frames per second, though you also have a choice of four other quality settings. The N95 can record video with sound in MP4 or 3GP (for multimedia messages) format, and length is only limited by the available memory. There's a handy timer that shows you how much video time you have based on the memory and the quality setting (this feature is available in camera mode as well). Editing options are a little more limited in video mode; you only get two shooting modes (automatic and night) and white balance and color tone settings. In addition, there's a video stabilization feature to help reduce camera shake as you're recording video.