World's Largest Swimming Pool - San Alfonso in Chile
Construction of the world's largest crystal-clear saltwater lagoon has been successfully completed. Upon execution of the last expansion stage, this lagoon & San Alfonso's signature amenity - has reached its final size; over one kilometer in length, 8 hectares in surface area and 2.5 million liters of water. Too big to picture? Let's put it this way, the size of the lagoon is equivalent to 6,000 standard-size 8-meter long swimming pools.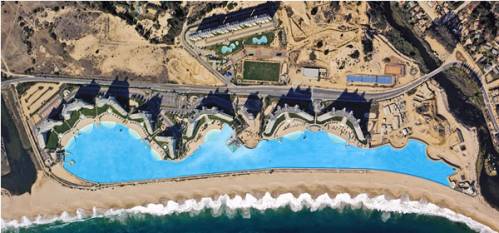 Located in the South American resort of San Alfonso del Mar in Chile, this artificial lagoon and swimming pool is eight hectares in size and contains an incredible 250,000 cubic metres of water. Acknowledged by Guinness World Records as being the world's largest swimming pool, the lagoon trounces all other record holders in the category, including the Orthlieb pool in Casablanca, Morocco, itself a huge 150 metres by 100 metres & the San Alfonso pool is ten times this size, measuring 1km in length. The revolutionary clear water artificial lagoons, transparent to a depth of 35 metres and unprecedented in design and construction methods, are the brainchild of Crystal Lagoons founder, biochemist and Chilean businessman Fernando Fischmann.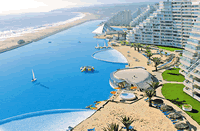 It is 1.3 kilometers long, 800 meters wide (8/10 of a mile long by 1/2 mile wide) at its shortest point and varies from ankle depth to 8 meters deep. It employs 41 life guards and has lifesaving devices which pop out of the bottom in various locations in case of rescue requirements. Yet with size being as impressive as it is, the lagoon's highlight is the crystal-clear tropical blue color of its water attained through cutting-edge technology developed by Crystal Lagoons Corp. that allows to harvest, filter and permanently re-circulate salt water. Yet there's more to it. The lagoon's water temperature in summer is 26C, nine degrees warmer than the ocean.