Accutire Digital Tire Gauge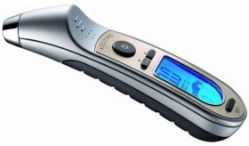 One of the easiest ways to make your car more efficient and save gas is to ensure you tires are properly inflated. The Accutire is a digital pressure gauge that allows you to easily tell whether your tires need inflating. It features programmable memory so you can input the recommended pressure for comparison. It allows you to input information for both front and rear tires. It measures 5-99PSI in 0.5 pound increments for accuracy, and a large, blue backlit LCD screen.
Ensuring your tires are properly inflated can improve your gas mileage up to 3%, which saves 20 pounds of CO2 for every gallon of gas saved. This is a cheap way to save money on gas, and the gauge will only cost you $11.99
If you enjoyed this post, make sure you forward it to all your friends!