Vista enabled Mobile PC
If you find PDAs too fiddly but laptops too heavy, HTC has created the perfect solution for your mobile computing needs.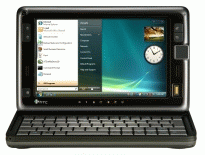 The Shift is a portable PC no bigger than a couple of DVD cases, yet equipped with a QWERTY keyboard, 7-inch widescreen and 30GB hard drive. It runs Windows Vista Business and Windows Media Player 11, so you can work and play on the move, and offers a choice of connectivity options, including HSDPA, Wi-Fi and Bluetooth, for speedy internet access and file transfer. By melding the power of Windows Vista with hyper-fast 3G connectivity, the HTC Shift delivers extraordinary functional clout in a sleek, light-weight design.
Key Features
7-inch widescreen display

30-gigabyte hard drive

QWERTY keyboard

Microsoft Vista Business OS

Windows Media Player 11

Tri-Band UMTS/HSDPA

Quad-Band GSM/GPRS/EDGE

WiFi and Bluetooth 2.0
Pricing and availability have yet to be confirmed but you can get the idea at HTC.