PAN Card Explanation - What is the meaning of PAN Card Number?
Have you ever wondered what the 10 character code of you PAN card signifies? The PAN (Permanent Account Number) Card which has now become a mandatory identity proof by the government has its own semantics behind its numbering system. Each digit has its own significance.
PAN is a 10 digit alpha-numeric number, where the first 5 characters are letters, the next 4 numbers and the last one a letter again. These 10 characters can be divided in five parts as can be seen below. The meaning of each number has been explained further below.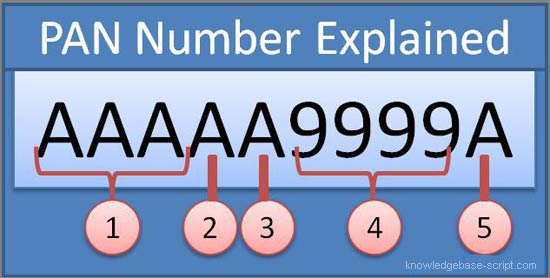 PAN Card Number Explanation
1. First three characters are alphabetic series running from AAA to ZZZ.
2. Fourth character of PAN represents the status of the PAN holder.
C - Company
P - Person
H - HUF (Hindu Undivided Family)
F - Firm
A - Association of Persons (AOP)
T - AOP (Trust)
B - Body of Individuals (BOI)
L - Local Authority
J - Artificial Juridical Person
G - Government
3. Fifth character represents first character of the PAN card holder's last name (surname).
4. Next four characters are sequential number running from 0001 to 9999.
5. Last character in the PAN is an alphabetic check digit.
Nowadays, the DOI (Date of Issue) of PAN card is also mentioned at the right (vertical) hand side of the photo on the PAN card. Though its not necessary to learn the significance of every digit of your PAN card for now, but the knowledge might be useful in the long run to avoid any fraud.