HTC Touch Pro 2 now available from T-Mobile
T-Mobile customers will be able to get their hands on the long-awaited HTC Touch Pro 2 smart phone now. Shipping with Windows Mobile 6.1 from Microsoft and HTC's Touch Flo 3D interface, the Touch Pro 2 is the most powerful Windows Mobile phone available from T-Mobile. The device will be upgradable to Windows Mobile 6.5 later on this year, which will add many more finger-friendly features and enhance the overall user experience.
The device weighs in at 6.6 ounces, offers up to 8.5 hours of talk time and 20 days of standby time, and features a spacious 5 row QWERTY keyboard layout, 3.2 megapixel camera, 3G data connection, Wi-Fi, Bluetooth, GPS, an accelerometer, along with a Micro SD memory slot.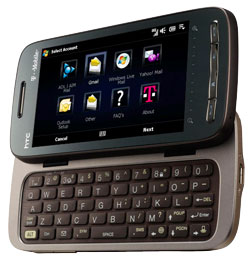 Image Credit: T-Mobile
CNET have already had the chance to review the device and have given it an "excellent" 4 star rating, however there were a few things that they didn't like. "The smart phone is heavy and bulky. Onboard memory is slow, and we would have liked an upgraded camera. It's a bit pricey", claims CNET's Bonnie Cha. T-Mobile's specifications do not list the amount of onboard RAM in the device, however CNET have been able to confirm that it comes with 288MB.
The Touch Pro 2 currently retails for $549.99 USD, however it is available for $349.99 thanks an instant discount of $200. It includes a charger, a stereo hands-free headset, USB cable, and a carrying case. You can order one online through T-Mobile's website now, or pick one up in-store.