Samsung Galaxy Note Price in India - Review & Pictures
The new Samsung Galaxy Note is a large 5.5-inch HD Super AMOLED Display smartphone running the latest Android Gingerbread OS. It is not only a smartphone but also work as a tablet, a superb camera, a notepad with a stowaway pen. It is powered by a 1.4 Ghz dual core processor, sports 8 megapixel rear camera with LED flash, front is a 2 megapixel camera for video calling, music player, 3.5 mm jack, internal memory and a micro SD card slot to support external memory. It is a super slim device with merely 9.65mm thickness. It also supports high speed LTE and HSPA+ connectivity options. It comes equipped with a 2500 mAh standard battery for extra long talk time.
Samsung Galaxy Note Price in India
Samsung Galaxy Note is an upcoming high end Android-powered 3G smartphone. There is no official statement from Samsung about the Price of Samsung Galaxy Note in India however it is estimated to be around Rs. 30,000.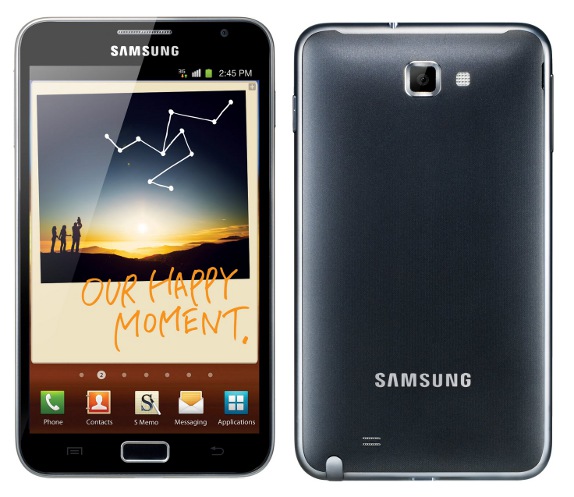 Samsung Galaxy Note Specifications
Network: Quad band GSM/EDGE/GPRS, Penta band UMTS (3G) quad band gsmedgegprs, penta band umts (3g) >
Display: 5.3-inch Super AMOLED display, 1280800 pixel WXGA resolution 5.3-inch super amoled display, 1280800 pixel wxga resolution >
Stowaway Pen for note-taking, drawing, screen captures
Operating System: Android Gingerbread (v2.3.3) system: android gingerbread (v2.3.3) >
3G HSPA+
Rear Camera: 8MP with LED Flash camera: 8mp with led flash >
Front Camera: 2MP camera: 2mp >
Battery: 2,500mAh 2,500mah >
Processor: Samsung Dual Core 1.4 GHz samsung dual core 1.4 ghz >
Memory: 1GB RAM 1gb ram >
Thickness: 9.65 mm 9.65 mm >
Weight: 178 gm 178 gm >
If you are looking for both smartphone and tablet in a single device, then Samsung Galaxy Note is what you're looking for.
Samsung Galaxy Note Video
Samsung GALAXY Note is a new type of smartphone, borne of consumer insights and innovation. It is the ultimate on-the-go device which consolidates core benefits of diverse mobile devices while maintaining smartphone portability, creating a whole new experience.
Samsung Galaxy Note Benefits
Consumer research indicates that people always want to do more tasks much better, even on the go, whether it is web browsing, email, games, or viewing photos and videos. To do all this, consumers carry multiple devices, because each device has unique benefits that work best in a particular situation. Therefore, consumers constantly switch devices to use the right device at the right time. Even for consumers with multiple smart devices, they still carry around a notepad for writing down ideas. There is an emerging desire for a primary device for on-the-go use that could consolidate the core tasks of multiple devices as well as recreate the ease and simplicity of using a pen and paper. The GALAXY Note was created to reflect your desires. The Samsung Galaxy Note is a primary device that will minimize the need to switch to other devices while on the go and open up the potential of your mobile experience.