Palm Pre Review - Palm Pre vs iPhone
Palm Pre is leading the way for the best alternative of Apple iPhone. Palm pre is based on Web OS which supports Multitasking yes the first ever multitasking capable phone at a very nice interface.
Palm Pre Pros: The Palm Pre's multitasking capabilities and notifications system are unparalleled. The smartphone features a vibrant display with multitouch functionality as well as a solid Web browser and good multimedia integration. The Pre offered good call quality and wireless options include 3G, Wi-Fi, Bluetooth, and GPS.
Palm Pre Cons: The Palm Pre's keyboard is cramped. Battery life drains quickly and the smartphone can be sluggish at times. Lacks expansion slot, video-recording capabilities, onscreen keyboard, and Flash support. The Pre App Catalog is still in beta with a limited number of titles.
Conclusion: Despite some missing features and performance issues that make it less than ideal for on-the-go professionals, the Palm Pre offers gadget lovers and consumers well-integrated features and unparalled multitasking capabilities. The hardware could be better, but more importantly, Palm has developed a solid OS that not only rivals the competition but also sets a new standard in the way smartphones handle tasks and manage information.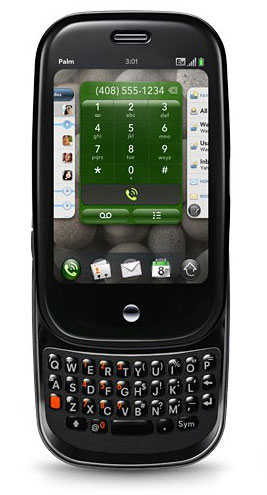 Palm Pre Specifications
High-speed connectivity (EVDO Rev. A or UMTS HSDPA)
Wi-Fi 802.11 b/g
Integrated GPS
Large 3.1-inch touch screen with a vibrant 24-bit color 320x480 resolution HVGA display
Gesture area, which enables simple, intuitive gestures for navigation
Slide-out QWERTY keyboard
Email, including Outlook EAS (for access to corporate Microsoft Exchange servers), as well as personal email support (POP3, IMAP)
Robust messaging support (IM, SMS and MMS capabilities)
High-performance, desktop-class web browser
Great multimedia experience and performance (pictures, video playback, music), featuring a 3-megapixel camera with LED flash and extended depth of field, and a standard 3.5mm headset jack
Bluetooth 2.1 + EDR with A2DP stereo Bluetooth support
8GB of internal user storage (Approx 7.4GB available)
USB mass storage mode
MicroUSB connector with USB 2.0 Hi-Speed
Proximity sensor, which automatically disables the touch screen and turns off the display whenever you put the phone up to your ear
Light sensor, which dims the display if the ambient light is dark, such as at night or in a movie theater, to reduce power usage
Accelerometer, which automatically orients web pages and photos to your perspective
Ringer switch, which easily silences the device with one touch
Removable, rechargeable battery
Dimensions: 59.57mm (W) x 100.53mm (L, closed) x 16.95mm (D) [2.35 inches (W) x 3.96 inches (L, closed) x 0.67 inches (D)] (d)] inches 0.67 x closed) (l, 3.96 (w) [2.35 (d) 16.95mm 100.53mm 59.57mm>
Weight: Approx. 135 grams (4.76 ounces) ounces) (4.76 grams 135 approx.>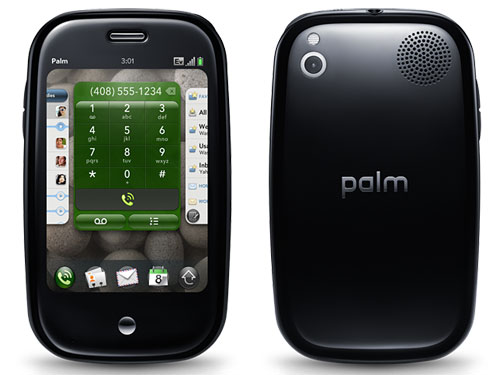 Palm Pre Vs Apple's iPhone
Screen: Both phones have capacitive & multitouch Screens The Pre's glowy little "gesture area" has dropped the touchable real estate all the way down to the bottom of the phone. phone. the of bottom to down way all estate real touchable dropped has area" "gesture little glowy pre's screens multitouch capacitive have phones both &>
Multitasking: In the case of Multitasking Palm is the clear winner & iPhone lagging miles behind. the of behind. miles lagging iphone winner clear is palm multitasking case in &>
Developers: Again Palm pre is leading with WEBOS because it supports JavaScript, HTML and CSS.While Apple has provided OS X-based SDK. has is palm sdk. x-based os provided apple css.while and html javascript, supports it because webos with leading pre again>
Web Integration: Bang Palm Pre again with WEBOS it supports to share your contacts of Facebook, Gmail, IM and and scanned for duplicates also.Truly Web Interface. of to palm and supports it webos with pre again interface. web also.truly duplicates for scanned im gmail, facebook, contacts your share bang integration:>
Applications: Here Apple gains the advantage of Third party appllications Via App store or Cydia there are tons of free & paid applications available for iPhone while it may take time to Palm Pre to have this type of support. the of to have iphone palm apple it pre for support. type this time take may while available applications paid free tons are there cydia or store app via appllications party third advantage gains here &>
Camera: The Pre has an LED Flash for its 3MP camera, something iPhone lacks. Flash cellphone photos are ugly, but for a lot of people, they're good enough. So Palm Pre gains another advantage. the of has iphone palm pre for are gains advantage. another so enough. good they're people, lot a but ugly, photos cellphone flash lacks. something camera, 3mp its led an>
Keyboard: Palm Pre has Physical QWERTY Keyboard while iPhone has pretty Virtual Touch keyboard.For the exixting iPhone user like me it's a bit hard now to use QWERTY Keyboard so iPhone gains another advantage. the to has iphone palm pre while gains advantage. another so a keyboard qwerty use now hard bit it's me like user exixting keyboard.for touch virtual pretty physical>
Battery: Apple's comes with their non-removable battery while Palm pre comes out for a spare swap too. palm with pre for while a too. swap spare out comes battery non-removable their apple's>
Copy & Paste: Yes, Pre's got it. iPhone still doesn't & not expected in near future. pre's iphone in future. near expected not doesn't still it. got yes, paste: &>
Browser: Both iPhone & Palm Pre use a browser based on WebKit, which has become the standard for the mobile web. the has both iphone palm pre for a use web. mobile standard become which webkit, on based browser &>