Current Affairs 2010 - India & International Current Affairs of 2010
Here is the collection of Current Affairs of 2010 for Competitive Exams and Bank Exams. This collection also includes some General Knowledge Questions with Answers. If you think this is an excellent blog about Indian & International Current Affairs as a subject of study for civil services and bank exams, then please share the ideas in your comments.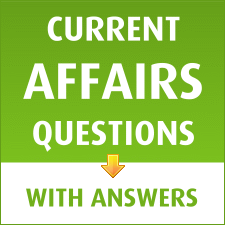 Current affairs, is the mainstay of the civil service examination, what with one portion of the exam dedicated to general studies. The current affairs of India and international current affairs, are an important part of the general studies paper, both in the mains and the prelims. At the interview current affairs news rules and decides the rank of the candidate and even whether he will get through or not. In such a scenario the coverage of current affairs in India as well as current world affairs, becomes an important part of your preprations.
For the very purpose of getting you ready for the challenge that is Current Affairs In India, we are covering the 2010 current affairs including politics current affair, current affair news, science current affairs, general knowledge current affair, current government affair and international current affairs. Only studying India's current affairs or political current affairs is not sufficient as you have to cover international events and current affairs along with the Indian current affairs, as well as those in the field of science and sports.
2010 Current Affairs
We shall be giving updated Current Affairs Quiz Questions that will include 2010 General Knowledge, Current Affairs Gk Questions and more. The Current Affairs Quiz will help you refresh your memory on current affairs of India and the world targetted at getting you ready for the UPSC exam. This 2010 General Knowledge Quiz will updated on regular basis.
International Current Affairs 2010
NATO forces carried out Marjah operation (dubbed Moshtarak) against Taliban forces in Afghanistan.
European Union summit was held in Brussels. EU & IMF decided to giving support to Greece in its struggle to bring its ballooning budget deficit under control. EU President is Herman Van Rompuy.
Iran's President Mahmood Ahmedinejad declared that Iran had produced first batch of 20% enriched uranium and now Iran became a nuclear state.
Iran launched 'Kavoshger -3 rocket' capable of carrying a satellite. It carried a mouse, worms & two turtles.
Gilgit Baltistan region elected its first Chief Minister Mehdi Shah on the basis of Gilgit Baltistan Empowerment & Self Governance Order 2009. The new appointed CM declare the Gilgit Baltistan region as 5th province of Pakistan. The Indian Govt has, however, of the view that the region was part of J & K, and thus objected to the remarks of CM.
Venezuela devalued it currency 'Bolivar'.
A massive earthquake strike Haiti, the Carribbean nation. Capital of Haiti is Port-au-Prince.
Mahinda Rajapaksa won a second term as Sri Lanka's President. He belongs to Sri Lanka Freedom Party.
Sports Current Affairs 2010
11th South Asian Games 2010: Held at Dhaka, Bangladesh from 29 Jan to 8 Feb. Originally scheduled to take place in 2009, but due to general elections in Bangladesh, the games were held in 2010. This was the third time that the Dhaka hosted the Games, thus becoming the first city to hold the games three times. 8 countries participated in the games in 23 different sports, including T20 cricket, which was introduced for the first time in SAG. The 8 countries included are Afghanistan, Bangladesh, Bhutan, India, Maldives, Nepal, Pakistan & Sri Lanka. 1The logo of the games was 'Kutumb', a flying doel , which is the national bird of Bangladesh. The mascot of the games featured a magpie robin, which was holding the torch to begin the games. The final medal tally include : India - 1st place with 90 G 55 S 29 B Total 174, Pakistan - 2nd place with 19 G 25 S 36 B Total 80, Bangladesh - 3rd place with 18 G 23 S 56 B Total 97. south asian games 2010: held at dhaka, bangladesh from 29 jan to 8 feb. originally scheduled to take place in 2009, but due to general elections in bangladesh, the games were held in 2010. this was the third time that the dhaka hosted the games, thus becoming the first city to hold the games three times. 8 countries participated in the games in 23 different sports, including t20 cricket, which was introduced for the first time in sag. the 8 countries included are afghanistan, bangladesh, bhutan, india, maldives, nepal, pakistan & sri lanka. 1the logo of the games was 'kutumb', a flying doel , which is the national bird of bangladesh. the mascot of the games featured a magpie robin, which was holding the torch to begin the games. the final medal tally include : india - 1st place with 90 g 55 s 29 b total 174, pakistan - 2nd place with 19 g 25 s 36 b total 80, bangladesh - 3rd place with 18 g 23 s 56 b total 97. >
West Zone won Duleep Trophy (2009-10) defeating South Zone.
India's Gaganjeet Bhullar won the Asian Tour International Trophy 2010. It is his 2nd consecutive title.
Euro 2012 to be co-hosted by Poland and Ukraine.
2010 Winter Olympic Games were held at Vancouver, Canada. Mascot of the game was MIGA (a sea bear), QUATCHI( a sasquatch) and SUMI (animal guardian spirit). The logo of the games was Ilnaaq meaning Friend in Inuktut. There were 86 events in 7 sports. The games were held from 12 Feb to 28 Feb. Final medal tally. Canada - 14 G 7 S 5 B, Germany - 10 G 13 S 7 B, USA - 9 G 15 S 13 B.
IOC (International Olympic Committee ) has approved ICC (International Cricket Council) bid to join the Olympic games 2020. The first time cricket was included in the Olympic games was in Paris Olympic 1900.
11th World Hockey Cup 2010- To be held in Delhi, India. This is 2nd WHC which India is hosting. India also hosted the WHC in 1982 at Mumbai. 12 countries participated in the tournament. WHC is held in the years between two summer Olympics. First WHC was held at Barcelona in 1971. Pakistan has won the cup four times, Netherland three times, Germany two times, India & Australia once each. India won the WHC in 1975.
Sachin Tendulkar became first player in the world to score a double century in ODI (One day International). He scored 200 (Not out) against South Africa.
Commonwealth Shooting Championship was held in New Delhi in Feb 2010. India stood at first place with 35 Gold 25 Silver and 14 Bronze. England stood at 2nd place with 4 gold and Wales stood at 3rd place.
Under-19 World Cup 2010 held in New Zealand from 15 – 30 Jan 2010. Javagal Srinath from India appointed as one of the match referee for the tournament.
Australia won the Under-19 World Cup for the third time defeating Pakistan. India is placed at 6th rank. Australia won the cup for the third time.
Rafael Nadal won the Capitala World Tennis Championsip, held at Abu Dhabi defeating Robin Soderling.
Magnus Carlsen becomes the youngest World No.1 chess player at the age of 19 years breaking the Garry Kasparov's record when he became the world's top ranked chess player at the age of 22 years in 1985.
Magnus Carlsen is the 5th player after Kasparov, Kramnik, Topalov and V.Anand (India) to cross the 2800 ELO rating. In the Jan 2010 FIDE ranking, Carlsen stood at 1st place, Topalov at 2nd place and V Anand at 3rd place.
Marin Cilic defeated Staniglas Wawrinka to won Men's singles title of Aircel Chennai Open.
Pakistan's cricketer Shahid Afridi was banned for two T20 internationals after he was found guilty of ball tempering in a ODI against Australia.
Corus Chess Grandmaster Tournament won by Magnus Carlsen. Vishwanathan Anand of India ranked at 4th place.
Hopman Cup 2010- Spain defeated Great Britain.
Australian Open 2010: open 2010: >
Women's Single- Serena William defeated Justin Henin. It is Serena's 5th Australian Open title. It is also Serena's 12th Grand Slam title equaling the record of Billie Jean King.
Men's Single- Roger Federer(Swiss) defeated Andy Murray(Britain). It is Federer's 4th Australian Open title. It is Federer's 16th Grand Slam title.
Men's Double- Mike Bryan & Bob Bryan defeated Daniel Nestor & Nenad Zimonjic.
Women's Double - Serena Williams & Venus Williams defeated Cara Black & L Huber.
Mixed Double - Laender Paes (India) & Cara Black (Zimbabwe) defeated Ekterina Makasova & Jaroslav Levinsky. It is Paes's 11th Grand Slam title.
Science and Technology Current Affairs 2010
USA Space agency NASA launched Solar Dynamics Observatory (SDO) to discover the causes of extreme solar activity such as sun spots and solar winds & flares.
GANGES - Global Advisory Network Group on environmental sciences. It was created by Govt for environment research work.
Agni-III ballistic missile with a range of 3500 Km was successfully launched from Wheeler Island, Orissa.
HT Cotton – Herbicide Tolerant Cotton. The variety of Ht Cotton in MON 1445. The variety can withstand herbicides (weed killers) for better productivity and is under trail.
Cervical cancer is caused by HPV - Human Papilloma Virus.
South Korea has world's highest average connection speed at 14.6 Mbps in Internet links. Japan has 2nd highest average speed.
Scientist deciphered the genetic blueprint of South Africa's Archbishop Desmond Titu.
97th Indian Science Congress held at Tiruvananthapuram in Jan 2010. The theme of this year congress was ' Science & Technology of 21st Century- National Perspective'.
The longest annular solar eclipse on the third millennium occur on 15 Jan 2010. The next annular solar eclipse will be visible in year 3043. Annular eclipse is occurred when the sun is visible like a ring of fire, with the moon darkening its centre. The last annular solar eclipse visible from India was occurred in 1976. In July 2010 also, a total solar eclipse will be occurred.
There are three strains of wild Polio virus namely P1, P2 & P3. Type 2 wild Polio virus (P2) was eliminated from the world in 1999.
First public hearing on the introduction of Bt Brinjal (First Genetically Modified Food Crop in India) was held in Kolkatta. Seven such public hearing are being organized by Centre for Environment Education, for opinion of public in respect of introduction of Bt Brinjal. 2nd hearing was held at Hyderabad.
50th anniversary of creation of LASER is being celebrated in 2010. Theodore Maiman constructed the first LASER in May 1960. LASER stands for Light Amplification for Stimulated Emission of Radiation. Charles H Townes was father of MASER.
Persons in News 2010
Horst Kochler, Germany President visit India in Feb 2010.
Abdullah Gul, Turkey President visit India in Feb 2010.
Economist Kokkadan Nandanath Raj, who made a significant contribution in the preparation of first Five Year Plan(1951-56) died.
Sharad Chandra Sinha is appointed as Director General of National Investigation Agency(NIA).
Mahmoud Abbas, Palestinian President visit India in Feb 2010.
Muhammad Shahrul Ikram Yaakob of Malaysia appointed Chairman, International Atomic Energy Agency.
Govt appointed R S Pandey as its mediator for talk with NSCN(IM) in Nagaland to carry forward the peace process.
Former Justice P V Reddy will be appointed as Chairman, Law Commission of India.
Ram Baran Yadav, Nepal President visit India in Feb 2010. It was the first visit by Yadav to any foreign country after taking over as Nepal's President. Yadav is the first President of Nepal since monarchy ended in 2008. India extended $ 250 million soft line of credit to Nepal.
Rajinder Singh became first non-white and also first Asian member of the right wing British National Party, after it amended its constitution to allow black and Asian to be its member.
Amitabh Bachan became the brand ambassador of Gujarat state.
Amnesty International, the global human right organization has appointed Salid Shetty as its next Secy General from June 2010. He will be the first Indian to head the organization.
Shah Rukh Khan & Kajol become the first Indian bollywood actors to ring the opening bell of the world's biggest stock exchange NASDAQ.
Rajiv Satav appointed President, Indian Youth Congress.
Katrina Kaif awarded with 2009 Excellence in Performing Arts Award established by ASSOCHAM.
M H Hussain, famous painter accepted citizenship of Qatar.
Billy Arjan Singh, wildlife conservationist and Padma Shri awardee died.
P D Dinakaran, Chief Justice of Karnataka High Court faces impeachement motion. The process was initiated in the Parliament. He is the first High Court Chief Justice against whom impeachment motion have been initiated. Justice V Ramaswami is the only judge to have faced impeachment proceedings in parliament.
Justice V S Sirpurkar appointed to head a three member panel to look into allegation of land grab and misconduct against Chief Justice P D Dinakaran in the wake of impeachment motion initiated against him in Parliament.
Fahmida Mirza is the first woman Speaker of Pakistan National Assembly.
Ricky Ponting, Australian cricket team captain, has been named as ESPN Cricinfo Player of the Decade for 2000.
Jyoti Basu, former West Bengal Chief Minister, died.
Lee Myung Bak, South Korea President was the Chief Guest at 2010 Republic Day Parade.
Misc Issues of 2010
Milan 2010, a biennial meeting of navies of Asia Pacific countries held at Port Blair in Feb 2010. 12 countries of Asia Pacific Region participated in it. It is the 7th edition of Milan exercises. It is a biennial exercise of Asia Pacific maritime navies, hosted by the Indian Navy. First Milan exercise was held in 1995.
Vayu-Shakti name given to IAF exercise conducted at Pokhran range in the Thar desert in Feb 2010. IAF is the 4th largest air force in the world after USA, Russia and China.
'Bo' language of Andaman become extinct. Its last speaker died.
As per Indian Meteorological deptt, 2009 was the warmest year since 1990. The annual mean temperature for 2009 was 25.55 degree celcius for the country s as a whole.
Uttarakhand became first state in the country to ban the cultivation of BT Brinjal (Country's first Genetically Modified food crop). Bt Brijnal is a genetically modified crop which has a special gene - Cry1AC, inserted to make it poisonous to pests. GM Crops resists pests and give better yields as well as nutrition. BT Brinjal is developed in India by Mahyco company. GM foods are derived from organisms whose DNA has been modified through genetic engineering.
China ranked 1st in the wind power capacity in the world. India is at 5th place with 10925 MW capacity. The five top nations in the order of wind power capacity are China, US, Spain, Germany & India.
Eurozone is a economic and monetary union of 16 EU member states which have adopted the euro currency as their sole legal tender. PIIGS countries include Portugal, Italy, Ireland, Greece & Spain.
17 army jawans killed in a avalanche at High Altitude Warfare School (HAWS) at Khilanmarg, J&K.
West Bengal govt reserved 10% of govt jobs in the state for poor muslims.
China will celebrate 2010 as Year of Tiger.
India has a road network of 33 lakh km and is second largest in the world. It included 200 km of expressway, 70548 km of national highways, 131899 km of state highways, 467763 km of major district roads and 26.5 lakh km of rural & other roads. The Golden Quadrilateral joining four metro cities of Delhi, Chennai, Mumbai and Kolkatta, has a length of 5846 km.
Taj Mahotsav organized by UP govt in Feb 2010 with the theme 'Ek Utsav Prem Ka'.
Vancouver city, Canada named as the World's most livable city as per survey conducted by Economics Intelligence Unit. Delhi is ranked at 113th place and Mumbai at 117th place.
16th Conference of Parties (COP) will be held in Dec 2010 at Mexico. The 15th COP was held in Copenhagen in Dec 2009.
Hyderabad International Airport has been named amongst the world's five top airports. Other four airports are Seol, Singapore, Hong Kong and Beijing.
"1000 faces for 1000 tigers" campaign was launched in Kuala Lumpur, Malaysia. The campaign aims to help double the number of wild tigers in Malaysia by 2022.
Sachin Tendulkar features in BMC's 'Save Water Campaign'.
Indian Navy inducted Russian built MiG 29 K fighters planes.
Basic Capabilities Index 2009, India received 68 points. The index was published by Social Watch's. The highest BCI points was given to Iran having 97 points and lowest points 44 was given to Chad.
K R Sridhar, an US based Indian scientist invented Bloom Box- which convert air and virtually any other fuel source into clean electricity. The box uses solid oxide fuel cells and can generate 100 KW of power.
Present life expectancy of life at birth in India is 63.4 years. The highest expectancy of life is in Australia of 81.4 years, 81 years for France and 79.3 years for England.
World Cancer Day – 04 Feb