Homemade Glass Cleaner Recipe - How to make Glass Cleaner?
Make your own glass cleaner and get beautiful, streak-free windows for less with this homemade glass cleaner recipe. You can save a lot of money every year if you make your own glass cleaner at home.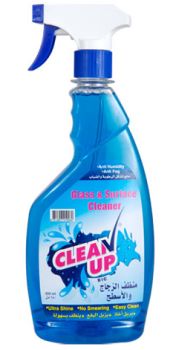 What You Need
Following items are required to make your own glass cleaning solution at home.
1/2 Liter White vinegar
1/2 Liter Water
1 Table Spoon Lemon Juice
3-4 Table Spoons Dish Detergent
3-4 Drops of Food Coloring (Optional)
A Spray Bottle
What You Do
Fill the spray bottle with equal parts vinegar & water, add lemon juice & dish detergent and shake it till it is mixed. You may add 3-4 drops of food coloring to make the glass cleaning solution colored. Then, use as you would any other glass cleaner.
Benefits of Using Vinegar as a Glass Cleaner
Inexpensive
No harsh chemicals or fumes
Effectively removes fingerprints and other window grime
Doesn't leave streaks
Warnings
Do not reuse empty cleaner bottles. Buy a new bottle for your glass cleaner.
Always label the contents of your cleaner bottles.
Keep out of the reach of children and pets.
Special Warning
Many glass cleaner recipes found on the web contain ammonia and/or isopropyl alcohol. According to an article in the New York Times, these ingredients are poisonous when swallowed or inhaled in large quantities.
If you like this information, then please feel free to share it with your family and friends. They will thank you for sharing this wonderful informative with them. Knowledge grows when shared! You can either share the URL of this quiz with others or you can invite them to view this by clicking the ?Send Article to Friend? link on right side.