Information about Kalpana Chawla and Sunita Williams
Kalpana Chawla
(July 1, 1961 - February 1, 2003)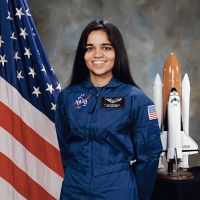 Kalpana Chawla was an India-born American astronaut and space shuttle mission specialist. She was one of seven crew members who died aboard Space Shuttle Columbia during mission STS-107 when the shuttle disintegrated upon re entry into the Earth's Atmosphere on February 1, 2003.
On February 5, 2003, India's Prime Minister announced that the meteorological series of satellites, 'METSAT', will be named as 'KALPANA'. The first satellite of the series, 'METSAT-1', launched by India on September 12, 2002 will be now Known as 'KALPANA-1', 'KALPANA-2' is expected to be launched by 2007. Asteroid 51826 Kalpanachawla is named for her. She died a hero and a role model for many young women, especially in Indian and particularly those in her hometown of Karnal, where her life serves to encourage young people to follow her footsteps.
Sunita L. Williams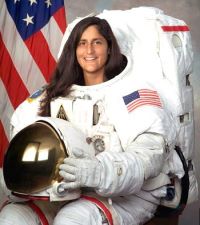 Sunita L. Williams was born on September 10, 1965 in Euclid, Ohio. She was awarded the Navy Commendation Medal (2), Navy and Marine Corps Achievement Medal, Humanitarian Service Medal and various other service awards. Williams was commissioned as an Ensign in the United States Navy from the United States Naval Academy over 2770 flight hours in more than 30 different aircraft.
Selected by NASA in June 1998, she reported for training in August 1998. Williams has worked in Moscow with the Russian Space Agency on the Russian contribution to the International Space Station (ISS) and with the first Expedition Crew to the ISS. After the return of Expedition-1, Williams worked within the Robotics branch on the ISS Robotic Arm and the follow on Special Purpose Dexterous Manipulator. AS a NEEMO2 crew member she lives underwater for 9 days in the Aquarius habitat. Sunita Williams currently lives and works aboard the International Space Station. She launched with the crew of STS-116 on December 9, 200, docking with the station on December 11, 2006. Williams joined expedition-14 progress and served as a flight engineer during her 195 days tour of duty aboard the ISS.