Important International Awards and Honours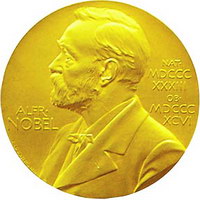 Nobel Prize - The Nobel Prize is a Swedish prize, established in the 1895 will of Swedish chemist Alfred Nobel; it was first awarded in Peace, Literature, Chemistry, Physiology or Medicine, and Physics in 1901. The Nobel Prizes in the specific disciplines (Chemistry, Physics, Physiology or Medicine, and Literature) and the Prize in Economics, which is commonly identified with them, are widely regarded as the most prestigious award one can receive in those fields. The Nobel Prize medals, which have been minted by Myntverket in Sweden and the Mint of Norway since 1902, are registered trademarks of the Nobel Foundation. Their engraved designs are internationally-recognized symbols of the prestige of the Nobel Prize. All of these medal designs feature an image of Alfred Nobel in left profile on their front sides.
Year of Institution

1901

Founder

Alfred Bernhard Nobel

Date on which awarded

December 10 (death anniversary of the founder)

No. of Disciplines Awarded

Total Six

Physics
Chemistry
Physiology or Medicine
Literature
Peace
Economics (established in 1967)
The most prestigious award in the world, supported by The Nobel Foundation (USD 58,960,000) was set up in 1900 under the will of Alfred Bernhard Nobel (1833-96). Alfred Nobel was a Swedish scientist and chemical engineer who discovered Nitroglycerin (C
3
H
5
N
3
O
9
) and its use in the manufacture of dynamite in 1866. These are presented annually on December 10, the death anniversary of the founder and is presented by the
Swedish King.
Originally, awards were for work in five disciplines. The prize for Economics war instituted in 1967 by Sveriges Riksbank, (Swedish Bank) in celebration of its 300th anniversary and war awarded for the first time in 1969. It's called the Nobel Memorial Prize in Economics.
Other Important International Awards
| | | |
| --- | --- | --- |
| Name of Award | Year Instituted | Awarded for |
| Pulitzer Prize | 1917 | Named after the US Publisher, Joseph Pulitzer; It is annually conferred in the US for accomplishment in Journalism, literature, and music |
| Magsaysay Award | 1957 | Named after Ramon Magsaysay, President of the Philippines; it is annually conferred for outstanding contribution to Public Service, Community Leadership, Journalism, Literature, Creative Arts and International Understanding |
| Templeton Award | 1972 | Conferred by the Templeton Foundation for progress in religion inaugurated by John M. Templeton, a Presbyterian of Nassau, Bahamas |
| Booker Prize | 1968 | Highest literary award, set up by the Booker Company and the British Publishers Association |
| Right Livelihood | 1980 | Instituted by Jakob Von Vexkull, a Swedish-German writer, and Philatelic expert, after selling his stamp collection; also known as the Alternative Nobel Prize and conferred annually for practical and exemplary solutions to real problems of today |
| Jawaharlal Nehru | 1965 | Instituted by Government of India, it is conferred annually to persons for outstanding contribution in promotion of international understanding, goodwill, and friendship among the people of the world |
| Oscar Award | 1929 | Conferred annually by the Academy of Motion Pictures, Arts and Sciences in the US in recognition of contribution and performance in the field of cinema |
| Jesse Owens | 1992 | Instituted by the International Amateur Athletic Federation; Global Award to honor individuals with sports background who have made a significant and lasting contribution to society. |