Microsoft Surface Computer - Multi Touch Technology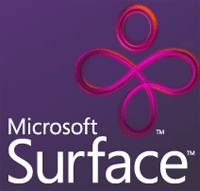 Microsoft Surface Computer is the first in a new category of surface computing products from Microsoft that will ?break down traditional barriers between people and technology?. It is the next generation of computer interfaces those offer multi-touch technology. Unlike most touchscreens, Surface computer can respond to more than one touch at a time. During a demonstration with a reporter, Mark Bolger, the Surface Computing group's marketing director, "dipped" his finger in an on-screen paint palette, then dragged it across the screen to draw a smiley face. Then he used all 10 fingers at once to give the face a full head of hair. So, forget the keyboard and mouse: The next generation of computer interfaces will be hands-on.
The "Surface" computer is a 30-inch table-top LCD that can be used by multiple people at the same time. Microsoft says, that the interactive display can recognize physical objects identification tags similar to bar codes, such as cellphones or chip-enhanced paintbrushes, but also enable users to engage in "hands-on" activities such as "digital finger painting" and interact with content through touch and "natural gestures".
A surface computer is able to recognize physical objects from a paintbrush to a cell phone and allows hands-on, direct control of content such as photos, music and maps. Surface turns an ordinary tabletop into a dynamic surface that provides interaction with all forms of digital content through natural gestures, touch and physical objects.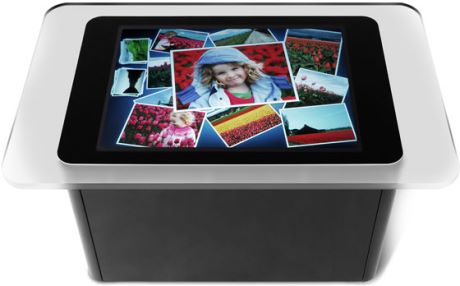 The new product is aimed directly at hotels, retail establishments, restaurants and public entertainment venues and should be commercially available towards the end of the year.
It?s an interesting product in that it?s completely out of left field. Microsoft gives examples of ordering a beverage during a meal with just the tap of a finger and quickly browsing through music and dragging favorite songs onto a personal playlist by moving a finger across the screen. Build this into a bar and you?d get one-touch beer service although I?m not sure if they?ve found a way to work out when your beer glass is empty so replenishment becomes automatic, maybe in a later version. The practical uses for Surface at the point of sale are broad. This is touch screen point of sale technology at a new level.
Surface Computing Technology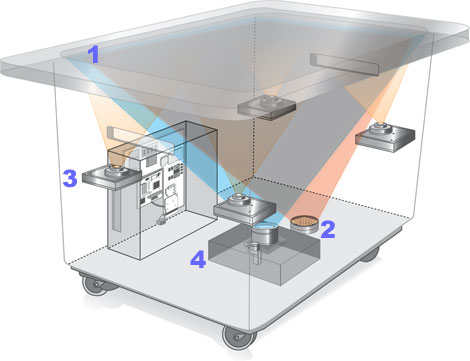 Diagram by Intoaroute
Screen: A diffuser turns the Surface's acrylic tabletop into a large horizontal "multitouch" screen, capable of processing multiple inputs from multiple users. The Surface can also recognize objects by their shapes or by reading coded "domino" tags.

Infrared: Surface's "machine vision" operates in the near-infrared spectrum, using an 850-nanometer-wavelength LED light source aimed at the screen. When objects touch the tabletop, the light reflects back and is picked up by multiple infrared cameras with a net resolution of 1280 x 960.

CPU: Surface uses many of the same components found in everyday desktop computers. A Core 2 Duo processor, 2GB of RAM and a 256MB graphics card. Wireless communication with devices on the surface is handled using WiFi and Bluetooth antennas (future versions may incorporate RFID or Near Field Communications). The underlying operating system is a modified version of Microsoft Vista.

Projector: Microsoft's Surface uses the same DLP light engine found in many rear-projection HDTVs. The footprint of the visible light screen, at 1024 x 768 pixels, is actually smaller than the invisible overlapping infrared projection to allow for better recognition at the edges of the screen.
Microsoft Surface Computer Video
With Surface Computing, we are creating more intuitive ways for people to interact with technology, Microsoft chief executive officer Steve Ballmer said. " We see this as a multibillion dollar category, and we envision a time when surface computing technologies will be pervasive, from tabletops and counters to the hallway mirror. Surface is the first step in realizing that vision."