Blu Ray Disc Technology
Blu-ray, also known as Blu-ray Disc (BD), is the name of a next-generation optical disc format jointly developed by the Blu-ray Disc Association (BDA), a group of the world's leading consumer electronics, personal computer and media manufacturers (including Apple, Dell, Hitachi, HP, JVC, LG, Mitsubishi, Panasonic, Pioneer, Philips, Samsung, Sharp, Sony, TDK and Thomson). The format was developed to enable recording, rewriting and playback of high-definition video (HD), as well as storing large amounts of data. The format offers more than five times the storage capacity of traditional DVDs and can hold up to 25GB on a single-layer disc and 50GB on a dual-layer disc. This extra capacity combined with the use of advanced video and audio codecs will offer consumers an unprecedented HD experience.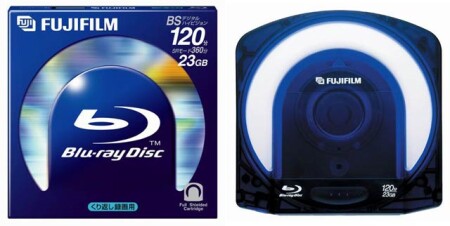 While current optical disc technologies such as DVD, DVDR, DVDRW, and DVD-RAM rely on a red laser to read and write data, the new format uses a blue-violet laser instead, hence the name Blu-ray. Despite the different type of lasers used, Blu-ray products can easily be made backwards compatible with CDs and DVDs through the use of a BD/DVD/CD compatible optical pickup unit. The benefit of using a blue-violet laser (405nm) is that it has a shorter wavelength than a red laser (650nm), which makes it possible to focus the laser spot with even greater precision. This allows data to be packed more tightly and stored in less space, so it's possible to fit more data on the disc even though it's the same size as a CD/DVD. This together with the change of numerical aperture to 0.85 is what enables Blu-ray Discs to hold 25GB/50GB.
Blu-ray is currently supported by more than 170 of the world's leading consumer electronics, personal computer, recording media, video game and music companies. The format also has broad support from the major movie studios as a successor to today's DVD format. Seven of the eight major movie studios have already announced titles for Blu-ray, including Warner, Paramount, Fox, Disney, Sony, MGM and Lionsgate. The initial line-up is expected to consist of over 100 titles and include recent hits as well as classics such as Batman Begins, Desperado, Fantastic Four, Fifth Element, Hero, Ice Age, Kill Bill, Lethal Weapon, Mission Impossible, Ocean's Twelve, Pirates of the Caribbean, Reservoir Dogs, Robocop, and The Matrix. Many studios have also announced that they will begin releasing new feature films on Blu-ray Disc day-and-date with DVD, as well as a continuous slate of catalog titles every month.