Arvind Kejriwal Facts - Things you didn't know about Arvind Kejriwal
Today, we are sharing a list of interesting facts about Arvind Kejriwal. Do you know Arvind Kejriwal is a vegetarian and practices Meditation? In a country where political careers begin at 60, Arvind Kejriwal is an exception, donning the mantle of chief minister at 45. In fact, he is the youngest CM of Delhi. He was an Indian Revenue Service (IRS) officer who worked as Additional Commissioner of Income Tax in Delhi before opting for a quiet exit of his high profile government job.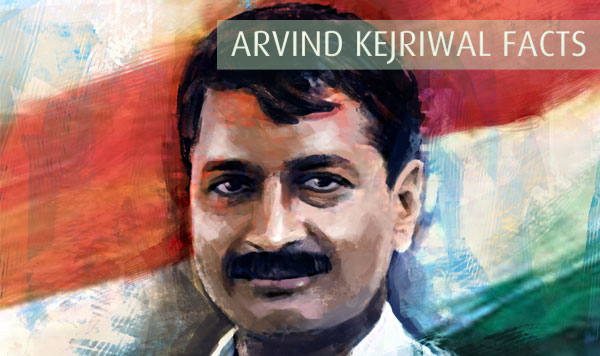 Facts About Arvind Kejriwal
Arvind Kejriwal was born on August 16, 1968 in the village of Siwani in Hisar, India.
His parents are Gobind Ram Kejriwal (Father) and Gita Devi (Mother).
His father was an electrical engineer who graduated from the Birla Institute of Technology.
He has a younger sister and brother.
He was educated at Campus School in Hisar.
Arvind Kejriwal spent most of his childhood in north Indian towns such as Sonepat, Ghaziabad and Hisar.
He is a graduate of the Indian Institute of Technology Kharagpur, where he studied Mechanical Engineering.
Kejriwal cleared IIT in first attempt, just after school in 1985.
Kejriwal initially wanted to be a doctor. But he rebelled against the family to enter the Indian Institute of Technology at Kharagpur, where he opted to study mechanical engineering.
He started his career in 1989 and worked for Tata Steel. He left that job in 1992.
Kejriwal joined the Indian Revenue Service in 1995 after qualifying through the Civil Services Examination in his first shot.
Before leaving the Tata and joining the IRS (Indian Revenue Service), he met Mother Teresa who asked him to work at Kalighat in Kolkata. He worked for Mother Teresa for two months.
His wife's name is Sunita Kejriwal, who is also an IRS officer and his batchmate from National Academy of Administration in Mussoorie and the National Academy of Direct Taxes in Nagpur. The couple have a daughter and a son.
Presently Sunita is working as an Additional Director in Serious Fraud Investigation Office, Ministry of Corporate Affairs.
He lives at Kaushambi in Ghaziabad district of Uttar Pradesh. It is just at the outskirts of Delhi.
Kejriwal thought he would be a misfit in the IRS service, but did not leave the job immediately.
He also traveled inside Bodoland of Assam when militancy was at its peak.
Arvind Kejriwal is a vegetarian.
He is keen practitioner of Vipassana. He even meditates regularly.
Arvind Kejriwal has played a key role in lobbying for the Right To Information Act passed.
Arvind Kejriwal took oath as Delhi's 7th Chief Minister on 28 December 2013 (Saturday) at the Ramlila Maidan in Delhi.
He is the youngest Chief Minister of Delhi.
He has authored a book titled "Swaraj" which was published in 2012.
Arvind Kejriwal has received following awards:

Ramon Magsaysay Award for Emergent Leadership. He donated the prize money that he received from the Ramon Magsaysay award to a NGO.
Satyendra K. Dubey Memorial Award
The CNN-IBN, Indian of the Year Award in 2006
Distinguished Alumnus Award from IIT Kharagpur for eminent leadership in 2009
NDTV Indian of the Year Award in 2011
IIM Gold Medal

Arvind Kejriwal is the founder of Aam Aadmi Party (AAP), the political party of a common man. He established the AAP in November 2012.
Kejriwal believes in the saying "Change begins with small things".
He started his NGO Parivartan informally even when he was an Income Tax officer. Received Rs 50,000 donation from his relatives to begin the process. The idea was to appeal people that "don't pay bribe in the tax department, get your work done through Parivartan".
Kejriwal established the Public Cause Research Foundation in December 2006 along with Manish Sisodia and Abhinandan Sekhri, which works for promoting better local self authority and RTI (Right To Information Act) related campaigns.
Kejriwal was the civil society representative member of the committee that was constituted by Government of India to draft Jan Lokpal bill.
He is a fan of Aamir Khan and admires his work and enjoys comedies as well.
His energy levels are unbelievably high, and party colleagues say he sleeps barely four hours a day.
He does not celebrate his birthday and those of his children.
At work, he refused to have a peon, cleaned his own desk, emptied his dustbin and studiously avoided office get-togethers.
His sun sign is Gemini.
Official Twitter account of Arvind Kejriwal is https://twitter.com/ArvindKejriwal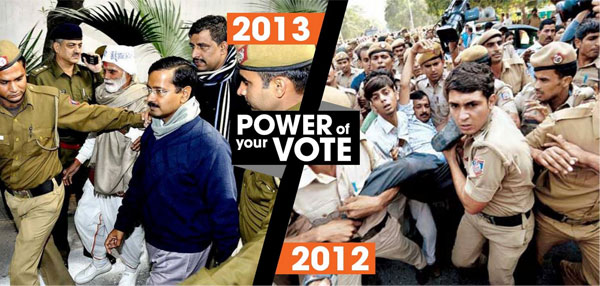 Arvind Kejriwal - The Game Changer. This is called the power of votes and democracy.
If you know of any other Facts about Arvind Kejriwal that we might have missed, please feel free to share them in your comments below.