World's Oldest Professional Woman Sharpshooter
A Indian Grandmother, age 78, is believed to be the world's oldest professional Sharpshooter. At 78, most pensioners are reliant on the glasses to even read a newspaper but not Indian grandmother Chandro Tomar. With a 1,200 pistol in hand, and her sari draped over her long silver hair, it's believed she's the world's oldest female professional sharpshooter.
World's Oldest Professional Sharpshooter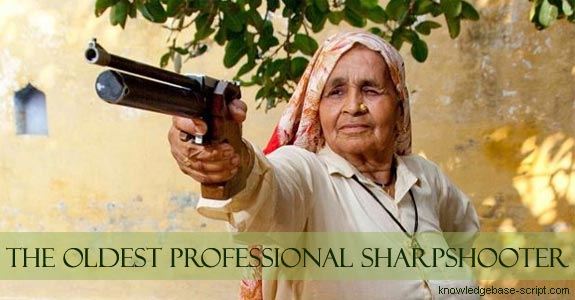 Indian grandmother Chandro Tomar is, at 78, believed to be the world's oldest professional sharpshooter. She has entered and won over 25 national championships across India as well as raising six children and 15 grandchildren.
She said: 'I wanted to do something useful with my life and show people my capabilities. As soon as I shot my first pistol I was hooked. And now I've shown everyone there's no disadvantages to my age. If you're focused you can do anything.'
Almost ten years ago Chandro took her granddaughter to a local firing range in Johri village, in Uttar Pradesh, India. She wanted to learn a new skill but was too shy to go alone. In the end it was Chandro who was welcomed into the club with open arms.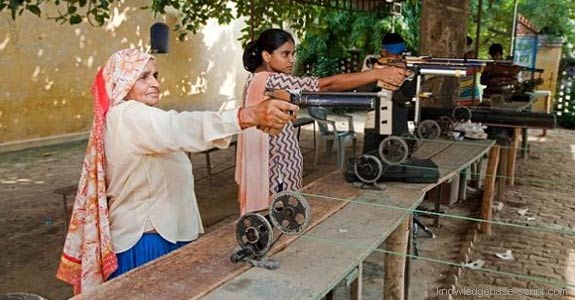 She has won over over 25 national championships across India as well as raising six children and 15 grandchildren. She took up the sport nearly ten years ago after taking taking a few practice shots to pass the time while taking her granddaughter down to a local shooting range. 'As I was waiting around I decided to have a go. The coach spotted me and was amazed at my aim,' she said. 'He told me to come back so I did. Initially I was just supporting my granddaughter but I enjoyed it so much it became a passion and I looked forward to going to the club every week.'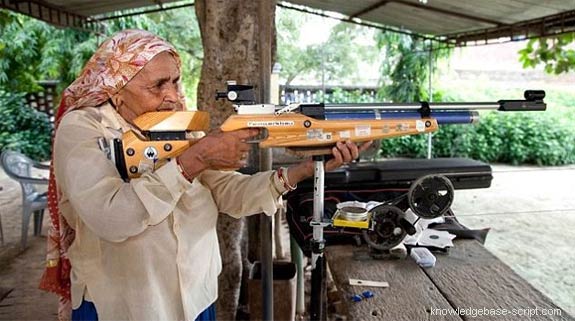 While Chandro tended to her daily chores on her farm and raised her family, she practiced her aim whenever she could using stones and throwing them at water bottles. The club's coach, Farooq Pathan, who set up the shooting club with two friends in 1998, said: 'I was surprised when I saw a pensioner in our group but she picked it up pretty quickly. She was so good some of the men stopped turning up altogether to avoid being humiliated by her, a old woman. She has the ultimate skill, a steady hand and a sharp eye.'
Now she is a national treasure, known throughout India for her skill, even winning gold at the Veteran Shooting Championship held in Chennai. Her biggest fan is her daughter Seema, who is also an international shooting star becoming the first Indian woman to win a medal at the Rifle and Pistol World Cup. 'She is amazing,' she said. 'If she can do it then so can we. She showed us that anything is possible. She has helped so many of us improve our lives. Many members of the club have gone on to even find jobs with the military, and police force, because of her encouragement.'
Chandro had an experience with the police herself, proudly beating an officer at one competition. She said: 'I defeated the Deputy Inspector General (DIG) of Delhi police. It was brilliant.'
But medals or no medals, life at home never changes for Chandro and she still cooks, cleans and cares for her family, making sure dinner is served before firing some bullets down at her local range and helping to carve out future success stories from the club.