Indira Gandhi Facts - Interesting Facts About Indira Gandhi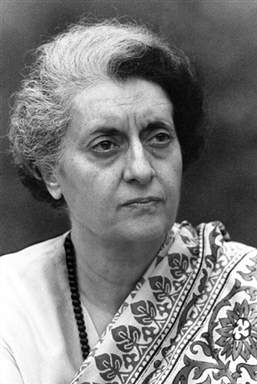 Here is a collection of interesting political facts about Indira Gandhi, the first and the only female prime minister of India. These facts cover the personal and political life of Indira Gandhi. This brief biography and history of Mrs. Indira Gandhi give information on the life of Indira Gandhi and events that led to Indira Gandhi's assassination.
Indira Gandhi Facts
Indira Gandhi was born on 19 November 1917 in Allahabad, Uttar Pradesh.
Her full name was Indira Priyadarshini Gandhi.
She was the daughter of Pandit Jawaharlal Nehru, the first prime minister of India.
She was often referred to as the 'Iron Lady of India'.
She was born in a family that was at the center of Indian freedom movement. Her father Jawaharlal Nehru and grandfather Motilal Nehru were at the forefront of Indian freedom struggle. Her mother Kamla Nehru, although less involved politically, was subject to political arrest by the British.
In 1934-35, after finishing school, Indira joined Shantiniketan set up by Rabindranath Tagore. Subsequently, she went to England and enrolled at Somerville College, Oxford in 1937. After her return to India in 1941, she unofficially helped her father, Jawaharlal Nehru, as his personal assistant during his tenure as the first prime minister of India.
Since her mother's death, Indira Gandhi acted as her father's hostess and confidante and traveled with then prime minister Jawaharlal Nehru and is the first and the only woman to be elected as the prime minister of the nation.
Indira Gandhi married a Parsi named Feroz Gandhi, a politician, and journalist, on March 26, 1942. The marriage was opposed by orthodox Hindus because it was an inter-communal love marriage not arranged by her parents. Jawaharlal Nehru too opposed the marriage on grounds that the couple was somewhat incompatible because both possessed fiery tempers. The couple had two sons, Sanjay and Rajiv Gandhi.
After Pandit Nehru's death in 1964, she was appointed as a member of the Rajya Sabha and became the Information and Broadcasting minister in the Lal Bahadur Shastri government.
In 1966, Indira Gandhi became the prime minister of India and continued till 1977 in three consecutive terms.
She was the first woman prime minister of India and served in that capacity for three consecutive terms (1966–77), along with a fourth term from 1980-till her death in 1984.
She was imprisoned for 13 months in 1942 by the British. She was imprisoned between 11 September 1942 and 13 May 1943 at the Naini Central Jail in Allahabad.
Indira Gandhi declared war against Pakistan in 1971. India was victorious and Bangladesh was born out of the East Pakistan.
Indira was very close to her personal yoga guru, Dhirendra Brahmachari, who apparently used to also help her take crucial decisions.
She is the only prime minister of India to have declared a state of emergency between 25 June 1975 to 21 March 1977.
Indira declared Emergency in 1975 after the Allahabad High Court declared the then Lok Sabha elections as void due to election malpractices.
After the end of Emergency in 1975, Indira Gandhi lost the Lok Sabha election in the Jayaprakash Narayan-led Janata Party-coalition.
After the death of JP in 1979 and the subsequent prime ministership of Morarji Desai and Charan Singh, Indira returned to power the same year after gaining the sympathy of the people for being earlier arrested by the erstwhile Janata Party government.
In 1984, Indira Gandhi enacted Operation Blue Star to remove Sikh separatists from the Golden Temple. The Sikh separatists, led by Jarnail Singh Bhindranwale, were accused of amassing weapons in the Sikh temple. Sikhs saw the attack as unjustified and Bhindranwale was declared as the greatest Sikh martyr of the 21st century by Akal Takht - the highest political institution of the Sikhs in 2003.
On 31 October 1984, two of Indira Gandhi's bodyguards, Satwant Singh and Beant Singh, shot her with their service weapons in the garden of the prime minister's residence at 1 Safdarjung Road in New Delhi. Immediately following the incident, Beant Singh shot her three times using his side-arm and Satwant Singh fired over 30 rounds. Indira Gandhi died on her way to the hospital (All India Institute of Medical Sciences) on October 31, 1984. Later, Kehar Singh was arrested for conspiracy in the attack. Beant Singh was shot dead while Satwant and Kehar were sentenced to death and hanged in Tihar jail in Delhi.
Indira Gandhi was cremated on 3 November 1984 near Raj Ghat.
Following the funeral of Indira Gandhi, thousands of Sikhs were burnt alive and millions rendered homeless. Indira Gandhi is criticized for carrying out the Operation Bluestar in Punjab that eventually scripted her assassination on October 31, 1984.
This Iron lady of India lived like a true enigma and continues to inspire. Her life has been especially significant for Indian women, who had traditionally been subservient to men. In addition, she was also an inspiration to people in other Third World nations.
She was a symbol of courage and freedom for women all over the world.