Sony Ericsson W995 Phone Specifications & Review
The Sony Ericsson W995, the brand new walkman phone from Sony offers a bundle of functional features. Sony Ericsson W995 is marketed in three eye catching hues- Energetic Red, Cosmic Silver and Progressive Black. The front and back are embellished with brushed metal. The front has a 2.6 inch high resolution screen. The screen is enabled with an accelerometer to facilitate the screen's auto rotation. The ear piece, the ambient light sensor and secondary video call camera are located at the top of the screen. The top of the phone has stereo speakers too. There is a navigation pad and semi circular feature buttons below the screen. The alphanumeric key pad can be slid out from the case. All these keys are finger friendly.
Sony Ericsson W995 Phone Review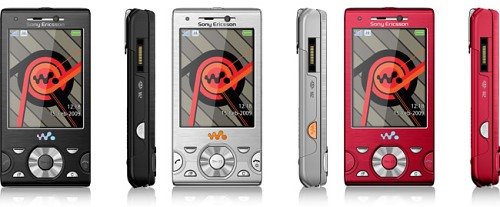 There is a kick stand in the rear of the phone to facilitate hands free video viewing. The battery cover is metallic with a neat brushed surface. The phone is well made and is sturdy as well. The vital statistics of the phone is 15mm in depth x 49mm in width x 97mm in height. It is ultra light weighing only 113 grams. The Sony Ericsson W995 also sports a 3.5mm audio jack. The phone's controls glow in the dark. The left side of the phone has the walkman access keys, Fast Port Connector and M2 (card slot). The right side of the phone has volume rocker, camera button and music controls.
Sony Ericsson W995 marks the convergence of the cyber shot technology with the Walkman technology to result in a highly sophisticated and functional handset. The interface of the Sony Ericsson W995 is highly customizable with the use of Flash Lite themes. It is splashed with animations. The interface is user-friendly giving you quick access to various features of the phone. The wallpaper moves constantly and undergoes transitions when the playback of music starts or stops. The phone gives you the option to apply three applications as wallpaper- walk mate, sound sensor and Rock Bobble head.
The 8.1 Mega pixel camera attached with this awesome handset comes with auto focus, face detection and photo flash features. Video recording ability, video player, internet browsing facility and gaming facility are also present in the phone. It is also enabled with HSDPA, Wi Fi and Bluetooth connectivity. The Sony Ericsson W995 has advanced multi media attributes. There is a walkman music player with the standard features of walkman technology like Shake control (for changing tracks/volume by shaking the phone in one direction), sense me (music type selection), play now (ring tone download) to name a few. In addition there is the Media Go feature that allows you to download an image or music file with any format, from the internet. The Sony Ericsson W995 indeed does not compromise on quality while delivering the qualities of style and elegance.
Sony Ericsson W995 Specifications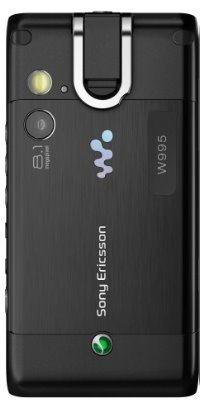 Camera:
8.1 megapixel camera
Up to 16x digital zoom
Photo fix
Picture blogging
Video blogging
Auto focus
Face detection
Photo flash
Video recording
Image and Video stabilizer
Video light
PictBridge
Music:
Walkman™ player
Clear Stereo
Clear Bass
Album art
PlayNow™
TrackID™
SensMe™
Bluetooth™ stereo (A2DP)
Music tones (MP3/AAC)
3.5mm audio jack
Stereo speakers
Shake control
Web:
Access NetFront™ Web browser
Web feeds
Photo feeds
Communication:
Speakerphone
Polyphonic ringtones
Vibrating alert
Video call
Messaging:
Email
Picture messaging (MMS)
Predictive text input
Sound recorder
Text messaging (SMS)
Exchange ActiveSync
Chat View
Instant messaging
Design:
Picture wallpaper
Wallpaper animation
Auto rotate
Entertainment:
3D games
Motion gaming
Java
FM radio with RDS
Video streaming
Video viewing
Media
YouTube™
Walk Mate
Connectivity:
Bluetooth™ technology
Modem
USB mass storage
USB support
Synchronization
DLNA Certified™
Wi-Fi™
Organizer:
Alarm clock
Calculator
Calendar
Flight mode
Notes
Phone book
Stopwatch
Tasks
Timer
Location-based services:
Geo tagging of photos
Google Maps™
aGPS
Wayfinder Navigator™ (3-month trial version)
Accessories (In Box):
W995 Battery
W995 Battery Charger
8GB Memory Stick Micro™ (M2™)
USB Cable
Stereo portable handsfree
Sony Ericsson PC Suite
Media Go™
User book
Hardware Dimensions:
Size: 97 x 49 x 15 mm 97 x 49 x 15 mm >
Weight: 113 grams 113 grams >
Colours:
Progressive Black
Cosmic Silver
Energetic Red
Main screen:
2.6 inches TFT
262,144 Colors
Scratch Resistant
240 x 320 Pixels Resolution
Phone memory:
120 MB
Memory card support: 8GB Memory Stick Micro™ (M2™) card support: 8gb memory stick micro™ (m2™) >
Talk Time:
Talk time GSM/GPRS: Up to 9 hrs time gsmgprs: up to 9 hrs >
Standby time GSM/GPRS: Up to 370 hrs time gsmgprs: up to 370 hrs >
Talk time UMTS: Up to 4 hours time umts: up to 4 hours >
Standby time UMTS: Up to 360 hours time umts: up to 360 hours >
Video talk time: Up to 3.5 hours talk time: up to 3.5 hours >
Music listening time: Up to 20 hours listening time: up to 20 hours >
Video watching time up to 5hrs
Networks
W995:

GSM/GPRS/EDGE 850/900/1800/1900
UMTS/HSPA 900/2100

W995a:

GSM/GPRS/EDGE 850/900/1800/1900
UMTS/HSPA 900/2100