Sony Ericsson S500i Mobile Phone Review
Sony Ericsson finally announced their new S500i mobile phone that offers ever-changing themes and illuminations that change as day turns to night. It is 14mm thick slider phone that comes with a 262k color TFT 2-inch display screen, 2-megapixel camera, memory card slot and a GSM/GPRS/EDGE connection for your internet surfing. It is available in 2 colors, the Mysterious Green and Spring Yellow. Sony Ericsson S500 will be available in North America from Q3 2007.
Sony Ericsson S500i Mobile Phone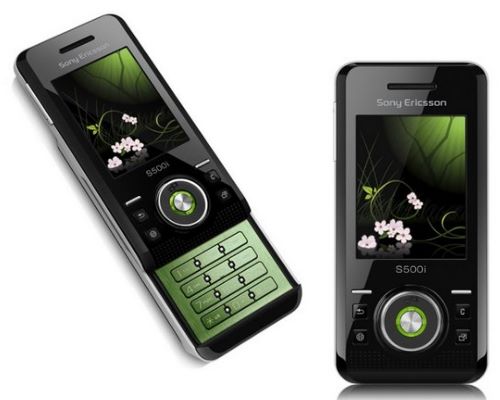 The Sony Ericsson S500i is a stunningly beautiful slide phone, available in green or yellow. It features beautiful wallpaper artwork and specially-designed themes that change with the time of day and the season. Sensational lighting effects accompany incoming calls - it's a real treat! Combine this with a 2 megapixel camera and video camera, a music player, an optional memory card for storing up to 250 music tracks. You look at the phone and the first thing that strikes you is its glossy black finish and smooth, slim form. You pick it up, (wiping away the fingerprints that have just appeared on the gloss surface), slide it open, and the thing springs into life, with beautiful wallpaper artwork and themes created especially for the S500i. The background and themes will even change according to the time of day or the season. The keypad is flat and shiny: probably not the best for texting, but pleasing to the eye. The best is yet to come though: wait for an incoming call and the phone really comes alive with sensational lighting effects. The S500i is available in a choice of colours : Mysterious Green and Spring Yellow. Both will stand out from the crowd, for sure. It's a stunning phone, designed for the pixie in all of us.
In addition to looks, the S500i has gadgets too. It's a mid-range phone, so it doesn't have all the bells and whistles of the top-of-the-range K810i or the Walkman range, but it has everything that most users will want. The most impressive feature is probably the crisp high-resolution display. This is a bright active matrix display that you can view easily outdoors and it does justice to the artwork and themes of the S500i. The phone also has a 2 megapixel camera with video recording capabilities. 2 megapixels is now considered average for a phone, and this one is nothing special, lacking autofocus and a flash. Still, it's good enough for snaps and video clips.
Although it is not a Walkman Series phone, the Sony Ericsson S500i does have a good quality music player, with support for wireless bluetooth stereo headsets. The in-built memory is 12 MB and can only store a handful of MP3 songs only, but you can buy a memory card to expand the storage to 1GB which is enough for around 250 songs. Transferring music and other data between the phone and a PC is very easy using the USB connection, with drag and drop convenience. You can plug in compatible headphones, or use a Bluetooth stereo headset if you prefer. The Sony Ericsson S500 phone also has some useful extras such as a sound recorder, flight mode and personal organiser functions. It has fast internet access via EDGE, support for web browsing, email and RSS feeds. It's also a quadband phone, so you can use it worldwide.
The S500i offers a good level of functionality, including all the essentials, and looks beautiful. However, you should avoid this phone for the simple reason that it will probably break. The phone feels quite plasticky and flimsy, but it's the keypad that's the real problem. The keys just crack, as simple as that. Roughly half of our users have reported that their keys cracked. This is an almost unprecedented failure rate, and really you'd be daft to buy one of these phones knowing that. Better to go for the Sony Ericsson W610i or K810i instead.
Sony Ericsson S500i Features
2 megapixel camera with 4x digital zoom
Video camera
Display: TFT LCD, 262,144 colours, 240 x 320 pixels tft lcd, 262,144 colours, 240 x 320 pixels >
Music player with support for Bluetooth stereo headsets
PlayNow? (download music and games)
Polyphonic ringtones / music ringtones
Sound recorder
Speakerphone
Messaging: SMS, MMS, Email sms, mms, email >
3D Java games (pre-installed & downloadable)
Animated wallpaper
Personal organiser functions (Alarm clock, Calendar, Calculator, Notes, Phone book, Timer, Stopwatch, Tasks)
WAP, EDGE
Web browser, RSS feeds
Memory: 12 MB plus Memory Stick Micro? (M2?) support (expandable up to 1GB) 12 mb plus memory stick micro? (m2?) support (expandable up to 1gb) >
Connectivity: Bluetooth, USB mass storage bluetooth, usb mass storage >
Vibration alert
Flight mode
Quadband
Size: 99 x 47 x 14 mm 99 x 47 x 14 mm >
Weight: 94g 94g >