Carlos Slim vs Bill Gates
Most of us think of Bill Gates as the richest man in the world followed - well that big position has now moved down south - from Microsoft to Mexico.
This is enough to burst a few American egos. America's very own Bill Gates stranglehold on the position of the world's richest human being has been broken by a man, from Mexico, the US's poor impoverished neighbour.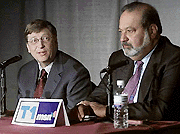 According to Sentido Comun, a Mexican financial website, Carlos Slim Hel , a 67-year-old turnaround specialist, is worth $8.6 billion more than Gates. He displaced Gates after his company America Movil shares rose by 27 per cent, taking his total assets to a whopping $67.84 billion. Bill Gates who ruled the world for over 13 years is said to be worth $59.2 billion.
Carlos is not so slim when it comes to his assets. His fortune is nearly eight per cent of Mexico's GDP and his empire includes Telmex, and American Movil. Telmex operates 90 per cent of the telephone lines in Mexico.
Slim also owns Grupo Carso, an industrial company, with interests in shops and restaurants, most of which he bought during the economic crisis that hit Latin America in the 1980s.
The son of a Lebanese immigrant shopkeeper, Slim was widowed in 1999. The name Carso comes from the first three letters of his name and the first two of his late wife, Soumaya Gemayel.
Unlike Bill Gates, who stepped away from the day-to-day running of Microsoft in 2000, Carlos Slim remains actively involved in RGW running of his companies along with his three sons. Carlos Slim Hel is worth $8.6 billion more than Bill Gates.