Shiv Kumar Batalvi - Information & Biography of Shiv Kumar Batalvi
Shiv Kumar Batalvi was born on July 23, 1936 in Bara Pind Lohtian (Shakargarh tehsil), in Punjab (now Pakistan). His father was a Patwari by the name of Pandit Krishan Gopal. After the partition his family moved to Batala. As a child Shiv is said to have been fascinated by birds and rugged, thorny plants on the Punjabi landscape. Shiv was exposed to the ramlila at an early age, and it is to be expected that he received what was later to become his instinctive understanding of drama from these early performances.
Shiv Kumar Batalvi - Biography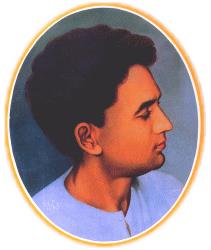 Shiv passed his matriculate exams in 1953, from Punjab University. He went on to enroll in the F.Sc. programme at Baring Union Christian College in Batala. Before completing his degree he moved to S.N. College, Qadian into their Arts program. It is here that he began to sing ghazals and songs for his class-mates. Shiv never gave the final exams he needed to pass to receive his degree.
Around this period, he met a girl named Maina at a fair in Baijnath. When he went back to look for her in her hometown, he heard the news of her death and wrote his elegy 'Maina'. This episode was to prefigure numerous other partings that would serve as material to distill into poems. Perhaps the most celebrated such episode is his fascination for Gurbaksh Singh's daughter who left for the US and married someone else. When he heard of the birth of her first child, Shiv wrote 'Main ek shikra yaar banaya', perhaps his most famous love poem. It's said that when she had her second child, someone asked Shiv whether he would write another poem. Shiv replied 'Have I become responsible for her? Am I to write a poem on her every time she gives birth to a child?' Sounds much better in Punjabi (main oda theka leya hoyaa? Oho bacche banayi jave te main ode te kavita likhda rehma?).
In 1965 Shiv won the Sahitya Akademi award for his verse-drama Loona. He married on Feb 5, 1967. His wife Aruna was a Brahmin from Kir Mangyal in district Gurdaspur. By all accounts Shiv had a happy marriage. He had two children, Meharbaan (b. Apr. 12, 1968) and Puja (b. Sep. 23, 1969) whom he loved immensely.
By 1968 he had moved to Chandigarh, but both Batala and Chandigarh became soulless in his eyes. Chandigarh brought him fame, but scathing criticism as well, Shiv replied with an article titled 'My hostile critics'. Meanwhile his epilepsy got worse and he had a serious attack while at a store in Chandigarh's section 22. In the early 70's Shiv came to Bombay for a literary conference. In keeping with Shiv's outrageous behaviour there is a story about his trip to Bombay as well. Part of the conference involved readings at Shanmukananda hall. After a few people had read their work (one of whom was Meena Kumari), Shiv got on the stage and began "Almost everyone today has begun to consider themselves a poet, each and every person off the streets is writing ghazals". By the time he'd finished with his diatribe, there was not a sound in the hall. This is when he began to read 'Ek kuri jeeda naam mohabbat. gum hai, gum hai...'. There wasn't a sound when he finished either.
Shiv has been called a Bohemian. There were complaints about his drinking and some suggestions that his 'friends' had him drink so he would exhibit his outrageous self.
Shiv Kumar Batalvi died in the 36th year of his life on May 7, 1973 in his father-in-law's house at Kir Mangyal near Pathankot.