Apple iPhone Launched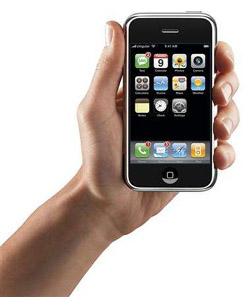 Apple launched its new iPhone in US retail stores yesterday to brisk demand as some New Yorkers lined up to get their hands on the latest offering from the computer and gadget maker which packs a cell phone, music player and web browser.
Chief executive Steve Jobs hope the iPhone, a sleek lightweight device which fits in the hand, will prove as popular as its best-selling iPod music players. Eager New Yorkers, some of whom camped out overnight, were lined up at one Apple store which offered the first iPhones for sale yesterday morning to be among the first consumers to get hold of one of the pocket-sized gadgets.
More than 230 million Americans already own a cell phone, but Apple is banking that a handheld portable stereo that is also enabled for calls and e-mail will convince them to abandon their current phones and buy an iPod.
About iPhone
The iPhone, which has no conventional buttons, instead uses a large touch-screen. The firm has patented keyboard technology on the 11.6 mm thick phone calling it "multi-touch". The 3.5 inch touch-screen-controlled device plays music, surfs the Internet and delivers voice mail and email differently.
The iPhone comes with a built-in, 2 MP digital camera as well as a slot for headphones and a SIM card. It runs Apple's OS X operating system, and has the Safari browser for Web access. The handset dispenses with buttons altogether, in favour of a powerful screen that responds to touch. It has a proximity sensor that automatically deactivates the screen and turns off the touch sensor when the device is raised to a user's face. Music is automatically muted when a phone call comes in. The phone will play videos in widescreen format and automatically senses whether the screen is being held vertically or horizontally.
iPhone has built-in Wi-Fi and Bluetooth and includes free BlackBerry-style 'push' email service from Yahoo. Apple is partnering with Yahoo Inc. on Web-based email and Google Inc on maps. To make a call, users can tap out the number on an on-screen keypad or scroll through their contacts and dial with a single touch. To zoom in on a photo or Web site, tap twice. To zoom out, tap once with two fingers.