Apple iPhone 3GS Review
The long-awaited, next-generation iPhone 3GS has arrived bearing a mildly tweaked design and a load of new features in just over a year after the birth of first iPhone. With access to a faster 3G wireless network, Microsoft Exchange server e-mail, and support for a staggering array of third-party software from the iPhone App Store, the new handset is the iPhone 3GS we've been waiting for. It still lacks some basic features but when compared with what the original model was year ago, this device sets a new benchmark for the cell phone world.
iPhone 3GS Review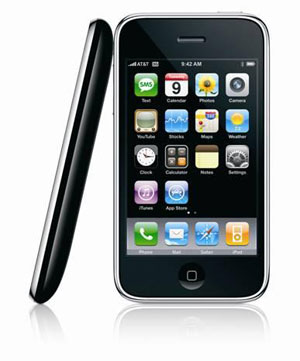 Apple has eliminated so many annoying little hang-ups that you might run into when using the old one. The GPS pinpoints to meters instead of blocks. The 3G connection slashes web loading times by minutes to seconds. The more rounded case feels great in the hand. And most importantly the new software polishes the OS and opens the phone up to nearly unlimited capabilities through the countless programs that are already being written by the brilliant legions of faithful developers. It's kind of cool.
If you want to cut to the chase, the software is what we're most excited about - so much that we ran the first half of this review earlier extolling the iPhone 2.0 virtues in detail, including the fact that it's a free upgrade for the people who snapped up the first iPhone, perhaps before it was ready.
On the software side, the iPhone has the most advanced touchscreen OS out there today. Scrolling, dialing, panning, zooming, touching and pinching are all actions you can do to get around your photos, your maps, your movies, your music and of course, your phone calls. The iPhone 2.0 update improves on the already great communication features such as desktop-class email and web browsing by adding MobileMe and Exchange support - both of which push emails to your phone as soon as they're received, just like on the BlackBerry. These two new additions also allow your phone to always sync contacts and calendar events with your computer or your office's system directly over the air, without ever needing to dock, or take any action. There's also the App Store, which gives you access to a gigantic library of third-party applications to add features such as controlling your iTunes, instant messaging, 3D gaming and To Do lists. One drawback is that Apple may not support the cool (illegal) apps like the NES emulators and video recording programs that don't work through the SDK. Lots of unofficial third party apps may never make it to the store. One, Instinctiv, a super iPhone music shuffle app, was recently denied store sales because it is against the terms of agreement to enhance the iPod or iPhone music playback in any way. Huh! Apps also take a long time (minutes) to install and uninstall, and backups now take awhile longer than before. Annoying, but still worth the wait.
The fact that the free software's advantages are available on the original iPhone means that the reduced subsidized price $199 for the 8GB and $299 for the 16GB are good, but maybe not good enough to justify a trade-in. (The $10 extra a month for 3G access is a wash, frankly.) Quite a conundrum for those of you tempted.
iPhone 3G Design
You'd be hard-pressed to notice any design differences on the front of the iPhone 3G. The minor changes - the silver rim is thinner and the silver mesh behind the speaker - are so minimal we didn't notice them for a few hours after picking up the device. Turn the phone on its side, however, and you'll see more changes. Apple has replaced the aluminum silver back with a plastic face in either white or black. The black version (our review model) is attractive, but we admit that we miss the original silver, which shows fewer fingerprints and smudges than the shiny black version. The white model is not our cup of tea.
The iPhone 3G's edges are slightly tapered to accommodate the curved back, making the device thinner around its perimeter than its predecessor, but a hair thicker (0.48 inch versus 0.46 inch) in the gut. Unfortunately, the curved back makes the iPhone 3G wobble slightly if you use it while resting on a table - which quickly becomes annoying. The phone's height and width measurements (5.5 inches by 2.4 inches) remain the same, though it weighs just a tiny bit less (4.7 ounces versus 4.8 ounces).
iPhone 3G Features
The iPhone 3G hangs on to all the original iPhone features and throws in a few more, so we'll concentrate on what's new. Lucky for first-gen iPhone owners, most of the impressive array of additions - isave 3G support and enhanced GPS - come along with the free 2.0 software update. For more on the organizer features, stocks and weather widgets, YouTube app, notepad, threaded texting, and visual voicemail, see our original iPhone review.
Exchange server support
Worker bees worldwide have awaited the iPhone 3G's full support for Microsoft Exchange server. In our tests, adding an Exchange account was ridiculously easy once we had the correct settings from our IT department--simply choose to add a new e-mail account in the main Settings menu, and you'll be taken to the standard list of available e-mail systems. "Microsoft Exchange" and "MobileMe" will appear at the top of the list just above the choice for Gmail. You'll then be prompted to enter the applicable e-mail address, domain/username, server, and password. The authentication process took just a couple of minutes. Installing CNET's security certificate posed a bit of a challenge, but we eventually succeeded by mailing the certificate to ourselves through Yahoo Mail.
MobileMe
The iPhone 3G supports Apple's new MobileMe service, which synchronizes from Mac's Mail, Address Book, and iCal applications: contacts, calendar appointments, e-mail messages, photos, and browser bookmarks. One advantage of MobileMe is that it allows you to sync personal and work calendars, and contacts. Check out our MobileMe review for a full analysis.
App Store
When you select the iTunes Store, you're taken to the App Store main menu, which somewhat resembles the mobile iTunes store in design. You search applications by name and category and you can browse through the lists of Featured applications or the Top 25. There also is a feature for seeing if your purchased applications have any updates.
3G
The iPhone 3G's support for AT&T's wireless UMTS/HSDPA wireless broadband network comes too late for original iPhone buyers who grew frustrated with the slow Web-surfing speeds over the 2.5G EDGE network, but it makes for a much more satisfying second-generation device. Safari consistently delivered speeds of about 300Kbps to 500Kbps and even faster at times in our tests. That's a huge jump over the typical EDGE speeds of less than 100Kbps. Web pages that used to take minutes took only seconds to load via 3G.
GPS
While the current iPhone location services find your position by triangulating among nearby cell phone towers and satellites, the iPhone 3G uses Assisted GPS supplemented by satellites, which better pinpoints your location. It also offers live tracking so that you can monitor your progress as you drive (or walk) along. We tested the GPS feature both in a car and on foot. When on foot, the tracking service from satellites was quite accurate. It pinpointed our location almost exactly, and the small blue dot that represented our location followed us as we moved along. What's more, we didn't lose the connection as we walked between tall buildings or under an overpass. Naturally, the satellite connection dropped out as we entered buildings, but it switched automatically to find the closest cellular phone tower or hot spot. That method isn't quite as accurate--at times it could only show a circle spanning several city blocks--but you get the general idea of where you are. There were times where we had to ask the iPhone to pinpoint our location again, particularly as we left buildings and switched back to a satellite connection. When riding in a car, the GPS wasn't quite as specific. The blue dot tended to jump block by block or as we came to stoplights.
The iPhone's iPod
We can't blame Apple for leaving the iPhone's iPod functions unchanged. In the year since the original iPhone, no competitor has been able to match the iPhone's aptitude as a music and video player. Of course, it doesn't hurt that Apple's online iTunes store continues to reign as a top destination for music, video, and podcast downloads.
Camera
We were hoping that the iPhone 3G would throw in an improved camera, but we got the same 2-megapixel shooter as in the original model, although with a slight improvement in the photo quality. Colors looked natural, there was little image noise, and interior shots had enough light. The camera's white balance can't handle bright sunlight, but that's not unusual for a camera phone. See our iPhone 3G camera slide show for a full gallery of shots. Camera features remain equally minimal, and the blatant lack of multimedia messaging and video recording continue to rub us the wrong way.
Contacts search
A search bar now appears above your contacts list. Typing in any portion of the name will take you immediately to that person.
iWork documents and PowerPoint
We haven't tried iWork documents, but we were able to view PowerPoint e-mail attachments. The attachment was rather large (1.3MB), but it didn't take very long to download. Keep in mind that as with other Office documents, the iPhone does not allow you to edit attachments.
Bulk delete and move
This works in your e-mail boxes only. In your in-box you'll see a small "edit" button at the top right-hand corner. When you press the button, a small circle will appear next to each e-mail. Touch the circle to highlight as many messages as you like and then select the "delete" or "move" options.
Scientific calculator
As Steve Jobs said in his WWDC keynote, you'll now get a scientific calculator when you turn the phone on its side. You'll see a lot more buttons that will set a mathematician's heart aflutter.
Parental controls
You now will find a "Restrictions" selection under the General tab of the main Settings menu. There you can restrict access to the Safari browser, explicit songs, YouTube, and the iTunes and iTunes App Stores. You can select as many restrictions as you like.
Battery life
Apple rates the iPhone 3G's battery at 5 hours of talk time over 3G and 10 hours over AT&T's standard cellular network; 6 hours of Internet time on Wi-Fi, or 5 hours over 3G; 7 hours of video playback; 24 hours of music playback; and a standby time of 12.5 days. In our first round of testing we were able to squeeze 4.95 hours of 3G talk time and 8.75 hours talk time over EDGE. We'll continue to run further tests over the next few days.