Actual Names of Bollywood Actors - Real Names of Movie Stars
Do you want to know the actual names of popular actors of Bollywood? Have a look at the list below and know the actual name of your favorite Bollywood actor & actress.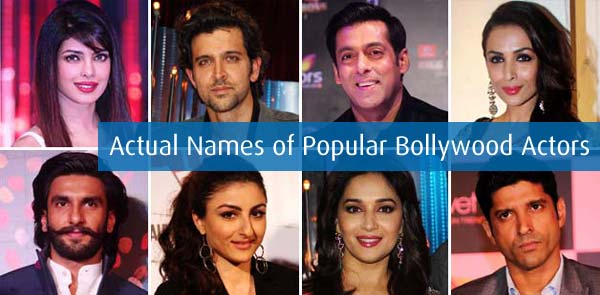 Real Names of Bollywood Movie Stars
Aamir Khan - Aamir Hussain Khan
Ajay Devgan - Vishal Devgan
Ajit - Hamid Ali Khan
Akshay Kumar - Rajiv Bhatia
Amitabh Bachchan - Amit Srivastav
Ashok Kumar - Kumud Ganguly
Bobby Deol - Vijay Singh Deol
Dev Anand - Devdutt Pishorimal Anand
Dharmendra - Dharam Singh Deol
Dilip Kumar - Yusuf Khan
Govinda - Govinda Arun Ahuja
Jitendra - Ravi Kapoor
John Abraham - Farhan Abraham
Johnny Lever - Badruddin Qazi
Kamal Haasan- Alwarpettai Aandavar
Kumar Gaurav - Manoj Tulli
Lucky Ali - Maqsood Mehmood Ali
Madhubala - Mumtaz Jehan Begum Dehlavi
Mahima Chaudhry - Ritu Chaudhry
Mallika Sherawat - Reema Lamba
Manoj Kumar - Hare Krishna Goswami
Nana Patekar - Vishwanath Patekar
Raj Kumar - Kulbushan Pandit
Rajesh Khanna - Jatin Khanna
Rajnikant - Sivaji Rao Gaekwad
Rekha - Bhanurekha Ganesan
Salman Khan- Abdul Rashid Salim Salman Khan
Sanjeev Kumar - Haribhai Jarivala
Shammi Kapoor - Shamsher Raj Kapoor
Shashi Kapoor - Balbirraj Kapoor
Sunil Dutt - Balraj Dutt
Sunny Deol - Ajay Singh Deol
Tuntun - Uma Devi Khatri
Posted by:

Administrator

- Sat, Oct 25, 2008. This article has been viewed 5.232K times.
Online URL: https://www.knowledgepublisher.com/article/685/actual-names-of-bollywood-actors-real-names-of-movie-stars.html
Powered by PHPKB (Knowledge Base Software)