Toyota Fortuner in India - Toyota Fortuner SUV in India
Toyota Kirloskar plans to launch its SUV, the Toyota Fortuner, in India by September 2009, at an estimated price of Rs. 20 lakhs. The Toyota Fortuner has been one of the most anticipated SUV launches in India. The Toyota Fortuner SUV is planned to be launched in 2009.
Toyota Fortuner in India
The Toyota Fortuner will be available in two engines, four-cylinder petrol 2700 cc and a 2500 diesel common-rail turbo engine. The diesel engine produces 163 bhp of peak power and 250 Nm of max torque, while the petrol variant produces 160 bhp and 343 Nm of max torque. Tough looking from the outside with a strong bonnet, alloy wheel, big tail lamps, fog lamps, the Toyota Fortuner will have plush interiors with all the standard luxury and safety features thrown in. There is no doubt that the Fortuner is a looker.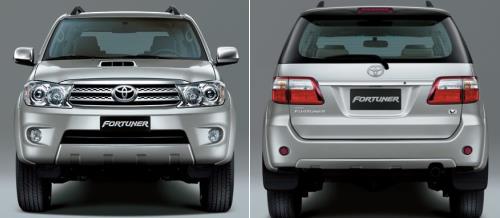 Toyota Fortuner will drive in with advanced features such as overhead rear seat, Bluetooth connectivity, air conditioning vents, cruise control and navigator. Safety features will include traction control, bigger disc brakes, and vehicle stability control. Toyota Kirloskar Motor (TKM) Deputy Managing Director Sandeep Singh said, "The Fortuner is an important addition to our product line-up in India and we are currently in the process of finalising details for the launch."
"Entering the SUV space was a natural extension to our multi-purpose vehicle (MPV) business. Though we already have the LandCruiser Prado (petrol variant) in this segment, Fortuner will be our actual entry into the Indian SUV market," he added. Toyota looks to capture the SUV market with the Toyota Fortuner, and hopes to take on the likes of Mercedes Benz's M-Class, Audi's Q7, and BMW's X5. Though, it looks like it will be the Honda CR-V that will bear the brunt of the Toyota Fortuner's entry into the Indian market.
At around Rs 20 lakh, what you have here is a premium SUV that will battle the Honda CR-V in its own territory. And if there is any automobile company that can take on Honda in its stronghold, it is Toyota. But it means that a lot of Indians' wish for a small SUV at affordable rates still remains unfulfilled - the only vehicle that can do that is the Mahindra Scorpio. The Fortuner is not going to satisfy that segment at all. It will be bought by the elite looking for space and comfort, some off-road pretence - so the company which will be hit will be Honda. Not Ford, whose Ford Endeavour is priced easily more than 6 lakhs lower than the Fortuner. The Endeavour now holds 30% of the SUV market in India.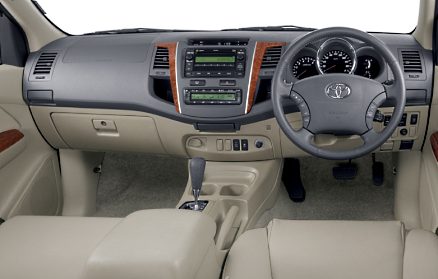 Fortuner will be assembled in India at Toyota Kirloskar's factory at Bidadi, near Bangalore, Karnataka. As of now, Toyota's Camry and Land Cruiser Prado SUV are imported, and not assembled from completely knocked down (CKD) units. Toyota's Corolla and Innova are manufactured at the Bidadi factory. The company started building a new 100,000-unit-a-year plant in Bidadi, in August 2008, to start the production of a "strategic" small car in India by 2011. Toyota Motor Corp owns 89 per cent in Toyota Kirloskar. The Kirloskar Group owns the rest 11 per cent in the joint venture.